Just Three Independents Remain in College Football
July 13, 2015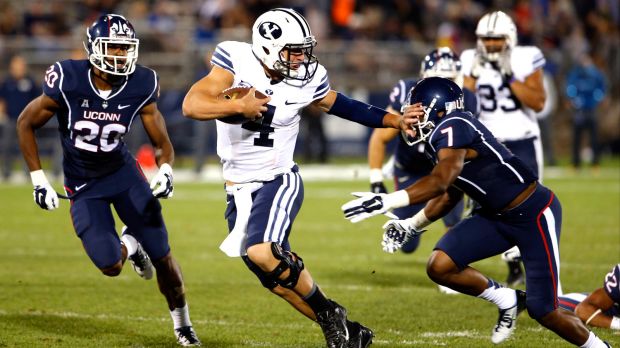 College football has a number of strong conferences from the Big Ten to the Big 12 to the Pac-12, SEC and ACC, amongst others. This season there are just three independents. Just two years ago that total was six, but after one-year of being independents, New Mexico State and Idaho joined the Sun Belt two years ago.
This season Navy joins the American Athletic Conference, the former Big East marking the first time in the storied history of the Navy football program that it will play a conference schedule. The AAC is also working things out to allow Navy to continue playing Army the week after the conference championship week.
Now only Notre Dame, BYU and Army remain as independents. BYU is pushing hard to get into the Big 12, but that likely will not happen any time soon.
The coaches currently in charge of the independents have been very successful in taking points with their current teams. The three coaches are a combined 53-34-3 against the number.
Even better, the three have a record of 35-16-2 combined as dogs when their teams have a winning percentage that is less than .667 for the season, including an excellent 7-0-1 against the number when coming off a win the previous game of 14 points or more.
Army has not reached the bowl season for quite some time. Since 1996 when they won 10 games the Black Knights have reached just one bowl game and finished with a better than .500 record just once, both were in 2010. Since 2011, Army is 0-20 SU as well as 1-19 ATS over its past 20 road games.
BYU has 90 wins in its past 10 seasons with bowl appearances each year. Taysom Hill, the talented quarterback, returns after missing most of last season after breaking his leg. The team, however, has the 17th hardest schedule in the nation. BYU is 22-22 over the past nine seasons versus opponents in the Power Five conferences.
Notre Dame will be stacked with players returning with experience. In all, 31 players have starting experience on the team. The defense will be tough. Last season they went 13 straight quarters without allowing any offensive touchdowns.
Brian Kelly the Notre Dame head coach is 20-4-2 as an underdog of 12 points or less versus teams that are sub .900. Now is the time to prepare your account for football season betting. Check out our top rated sportsbooks for access to service you can rely on.