Odds Makers Readjust NBA Title Futures As Top Free Agents Sign
July 14, 2015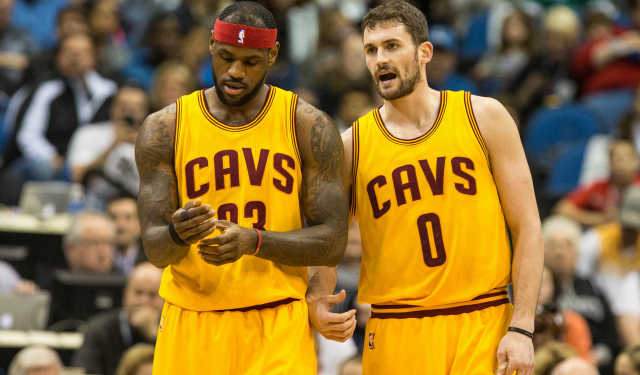 Odds makers have readjusted yet again the NBA championship futures now that free agency's biggest names have signed with new teams or re-signed with their current teams.
The NBA draft was completed a few weeks ago and the last of the top named free agents are now in place, which means the odds will not likely change that much through the remainder of the summer.
After Golden State had won the NBA Championship, the Cleveland Cavaliers opened as the favorite to win the 2015-16 NBA title. They kept that first spot after re-signing two key players in LeBron James and Kevin Love.
The Cavaliers put additional distance between themselves and every other team in the Eastern Conference, as the odds to win the conference shrank to 2 to 7. The closest teams are the Bulls, Wizards, Heat and Hawks and they all retreated in the opposite direction.
San Antonio signed LaMarcus Aldridge as well as David West. They re-signed Kawhi Leonard for five years and were told that both Tim Duncan and Manu Ginobilli would both return for another year. The Spurs are now the favorite in the West to win the conference title. The Spurs odds to win the West are now 4 to 1 after ballooning earlier to 12 to 1.
Golden State might have lost their status as the favorite for the West, but their odds of defending their title shortened just slightly to 9 to 2.
The Los Angeles Clippers were up to 20 to 1 when it looked as if DeAndre Jordan would sign with Dallas. However, he changed his mind and re-signed with the Clippers, with their odds retreating to 10 to 1.
Dallas signed Deron Williams and Wes Mathews but bookmakers were not that impressed, with their odds being raised to 100 to 1 from 40 to 1.
After losing Aldridge, the Portland Trail Blazers have also seen three other starters from last season depart and are no longer in the conversation when it comes to NBA Championship, as they are now 200 to 1 to win the title.
Both the Knicks and Lakers have seen their odds increase to 200 to 1 as well.