Spieth Favored to Win Open Championship, Woods in the Top 5
July 15, 2015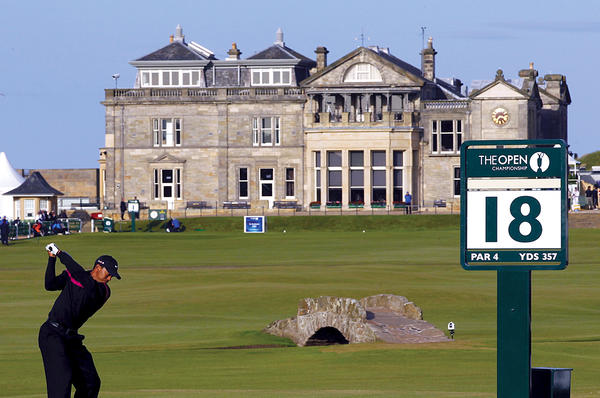 Golf's third major of the season tees off on Thursday from across the pond as the Open Championship will run from July 16 thru July 19. This major is the oldest of the four and played on some of the most historic and famed courses in the British Isles. This will be the 155th edition of the British Open and will be played on the Old Course at St. Andrews, which has been opened for 463 years.
The last time the Open championship was held at St. Andrews, South African Louis Oosthuizen won by 7 strokes at 16-under par.
He was part of a run of six non-Americans to win the tournament the past 8 years.
The field will be very strong except the world's No. 1 player Rory McIlroy will not play due to an Achilles tendon injury.
However, world No. 2 American Jordan Spieth is coming off a win last Sunday in the John Deere Classic and has won this year's first two majors. Spieth is the favorite at 5 to 1 to win.
In all just two of the top 80 players in the world are not playing this week, with McIlroy one and Alexander Noren the other.
Tiger Woods might not be having that good of a year and is ranked No. 241 in the world, but the 14-time major champion has won two of his three Open titles at this course. He is currently at 18 to 1 to win.
Rickie Fowler at this time is 20 to 1 to win. He has yet to win a major but has come close often over the past two years. Last year, he finished in the top five in each of the four majors and was tied for second in the Open championship.
Another golfer to look out for is Dustin Johnson. The American lost a heart breaker in last month's U.S. Open to Spieth when he three-putted the final hole. However, the long hitting Johnson has fared well at the Open. He is currently 12 to 1 to win, behind only Spieth.
2015 Open Championship Odds
Jordan Spieth 5 to 1
Dustin Johnson 12 to 1
Adam Scott 18 to 1
Louis Oosthuizen 18 to 1
Tiger Woods 18 to 1
Justin Rose 20 to 1
Rickie Fowler 20 to 1
Henrik Stenson 25 to 1
Phil Mickelson 30 to 1
Jason Day 35 to 1