Harvick Back to Being the Favorite in New Hampshire
July 18, 2015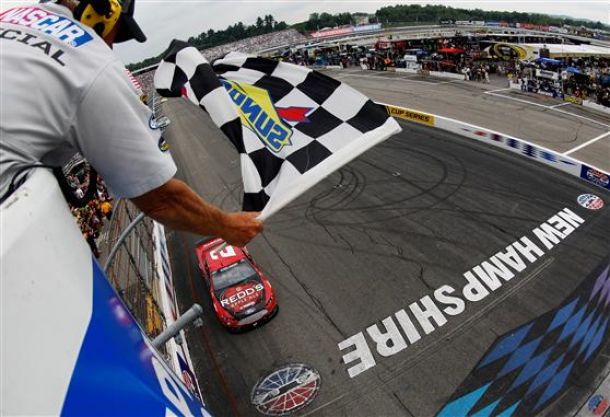 Following a dominant racing week in Kentucky for Joe Gibbs racing team, the NASCAR Spring Cup series returns to New Hampshire this week for the 5-Hour Energy 301, which is a race held first in 1993. All four of Gibbs' drivers were in the top five last weekend, with Kyle Busch taking the checkered flag.
There has been no dominance in this race since 2010 with a different winner each year since then. Jimmie Johnson, Kurt Busch and Tony Stewart have each won twice on the track, but no driver has taken a dominant hold on this granite and asphalt surface circuit.
Last year Brad Keselowski won with a 108.7 mph average. He won the race in a green white checkered ending, and it was one of his 33 wins.
This week the aero package used in last week's race will not be used. The package helped to make passing easier and took away a great deal of the domination of Kevin Harvick.
Nonetheless, Harvick will go back to being the force again on the 1.5-mile track, as the package will not be used again until Darlington.
Even though spoilers will be raised in both Michigan and Indianapolis for more drag, the Chase is going to be decided using the aero package the season started with and that means more domination by Harvick, Dale Earnhardt Jr., Martin Truex Jr. and Jimmie Johnson.
This Sunday in New Hampshire will use the regular aero package, which means less lap leaders.
This race will be similar to Phoenix and Richmond, which was the Kurt Busch and Harvick show. Just four drivers were able to lead a lap during Phoenix with Harvick leading 224 and winning for the fourth straight time there. Busch and four other drivers led laps in Richmond with Busch leading 291 out of 400 to take the win.
This weekend's setup will be similar and look for those two to be the drivers to beat.
Last fall Harvick was third in New Hampshire and he won there back in 2006. That same year he swept two Phoenix and won Richmond. In 2004, Busch was able to sweep New Hampshire and has 3 wins in 28 starts in his career here.
Favorites
Kevin Harvick (5/1)
Jimmie Johnson (6/1)
Kurt Busch (7/1)
Joey Logano (8/1)
Brad Keselowski (10/1)