Ladbrokes Acquire Gala Coral to Create Giant in the UK
July 25, 2015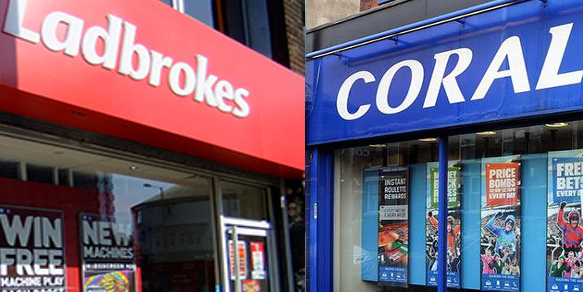 Gala Coral the bookmaker was acquired by Ladbrokes Sportsbook in a huge deal of $2.3 billion. The two began official discussions in June.
This merger makes Ladbrokes Coral the largest bookmaker in the UK unseating William Hill for that honor. Ladbrokes currently operates 2,100 walk-in wagering shops, while Coral has another 1,845 across the United Kingdom.
Insiders in the industry believe regulators will want some shops between the two to be shuttered to prevent any unfair antitrust issues in the gaming market in the UK.
Ladbrokes' Peter Erskine the Chairman said that the merger was a big strategic step by Ladbrokes, which accelerates its strategy to improve its customers' experience while building recreational scale.
The two sportsbooks are highly complementary, with both brand presence and rich heritage across both the UK and internationally, said Erskine.
Ladbrokes had previously made an attempt at acquiring Gala Coral 17 years ago, but their plans were squashed by Peter Mandelson the former Minister of Trade and Industry, said a report in a local paper.
When it comes to shareholders, Ladbroke shareholders will have 51.75% of the shares in the new company, while investors in Gala Coral a privately owned entity will own 48.25% of the total.
The merger comes just a week after 888Sport the online sportsbook acquired Bwin.Party Digital Entertainment for cash and shares of $1.4 billion.
What is very clear is regulatory requirements and tax laws do not make it easy for small bookmakers to survive. Making is tough as well is the substantial amount of resources that are needed on a daily basis.
Bettors who use online sites who are not able to walk into a local betting shop down the street might find a bit of comfort betting with online companies listed on stock exchanges.
Always check on this site for the ratings of the safest and best online sportsbooks available.