Mayweather Jr. Posted as Huge Favorite in Potential Bout with Berto
July 27, 2015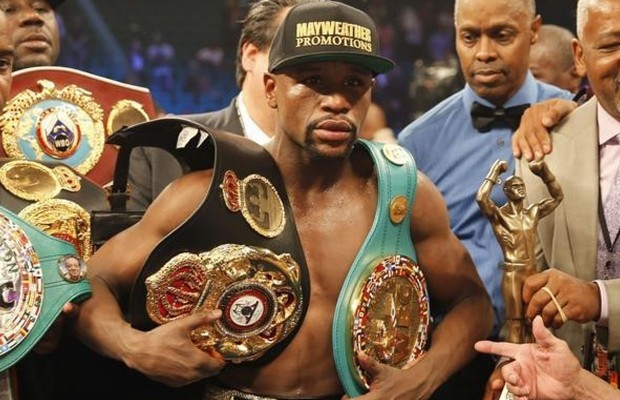 Floyd Mayweather Jr.'s name popped up on the futures board at a Las Vegas casino again this weekend. No, it was not about a rematch with Manny Pacquiao but about Mayweather's potential bout against Andre Berto.
One future's board has posted Mayweather as a -900 favorite with Berto going off as a huge +650 underdog.
The fight is tentatively scheduled for September 12 at the Las Vegas MGM Grand Arena, This fight has been on the rumor wires across Las Vegas and online sportsbooks for the past few weeks, but to date no one has confirmed the bout will take place.
Mayweather is such a favorite that anyone betting him must wager $900 to win just $100. However, if someone has great faith in underdogs and in this case in Berto, he or she could bet just $100 and win $650 if Berto came out on top.
In Mayweather's May win over Pacquiao he closed as the -200 favorite over the Filipino just before the fight began.
Mayweather on just one occasion since 2006 has been such a huge favorite. That was in a 2014 bout versus Marcos Maidana when Mayweather also went off as the -900 favorite. In 2005, Mayweather was -950 chalk and in two fights during his career, he has been -2000 chalk.
This is likely the last time Mayweather will fight in his career. He is currently 48-0 after his victory over Pacquiao and will end his career, if he in fact retires, at 49-0 if he defeats Berto.
His past six fights have been decisions, with his most recent knockout going all the way back to 2011.
Mayweather is a master when it comes to defensive boxing, which does not make for exciting, edge of your seat matches. However, his defensive skill set has kept him undefeated and for the most part untouched since his turned pro back in 1996.
Berto on his part is 30-3 with 22 KOs in his professional career. He started his career 27-0, but has lost three of his past six fights.