American Pharoah Overwhelming Favorite in Haskell Invitation
July 31, 2015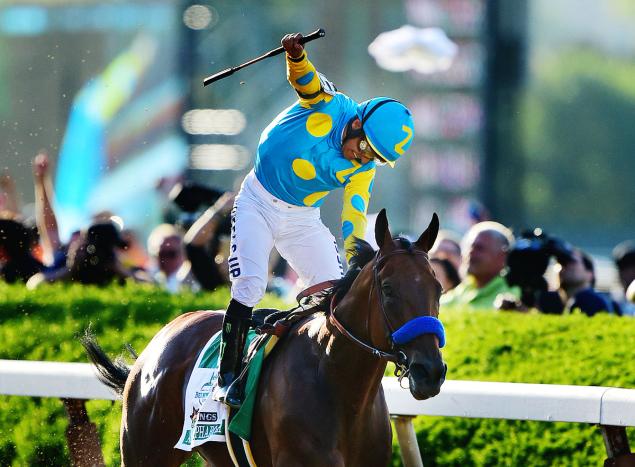 American Pharoah is back at the track. On Thursday, the Triple Crown winner was assigned 1 to 5 morning-line odds for the Haskell Invitation that will be run on Sunday at Monmouth Park in New Jersey. American Pharoah drew the No. 4 post position.
Pharoah will face seven other competitors in the race, the closed according to the current odds is Upstart who is currently 6 to 1. The last race run by Upstart was the Kentucky Derby in which he was 18th or dead last. It was the first time in his eight starts that he did not finish in the money.
Todd Pletcher has three horses in this race in his effort to upset American Pharoah trained by Bob Baffert. Of the three entries by Pletcher, Competitive Edge, which is 8 to 1, has the best odds. Dontbetwithbruno and Nonna's Boy are both sitting at 30 to 1.
Competitive Edge was four for four for his career until he finished in sixth place or dead last in the Belmont Park Woody Stephens Stakes June 6.
Keen Ice is currently listed as the fourth best betting line at 12 to 1. The trainee of Dale Romans has two showings that were respectable during the Triple Crown finishing in seventh during the Derby and third at the Belmont.
An American Pharoah win in the mile-and-an-eighth race will mark the eighth for Baffert in the Haskell.
Of the four horses Baffert had with a possibility at winning the Triple Crown before the start of the Belmont, War Emblem, Real Quiet, Silver Charm and American Pharoah, Pharoah will likely be the best when it is all over said Baffert. He called the horse solid the entire way.
Baffert said earlier in the week that he thought Pharoah would run a huge race. He hopes the horse breaks early and gets some much needed racing luck.
The Haskell Stakes has a purse of $1.75 million.