Oklahoma City Thunder Making Noise on NBA Futures
August 7, 2015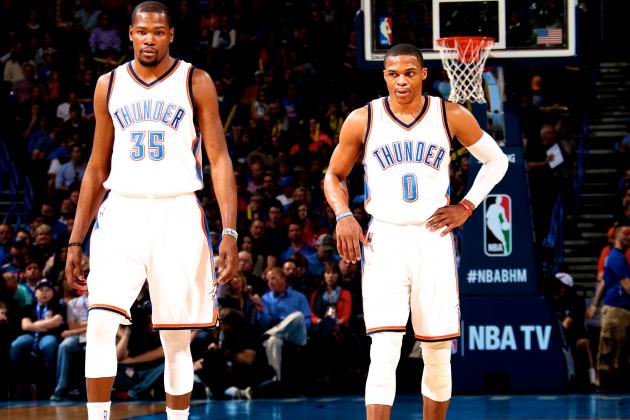 The NBA has been quiet of late with the offseason in full swing, marquee free agents having already signed with new or their existing teams and draft picks signing their first contracts.
Nevertheless, sportsbooks never stop making tweaks to the NBA futures and one team making some noise recently on the futures board is the Oklahoma City Thunder.
Expectations are running high in Oklahoma City and with NBA insiders. Some believe the Thunder could win the West, but beating the odds will not be that easy.
For many seasons, the Thunder was profitable to bettors. In fact, every season between 2008-09 until last season they earned bettors money. However, last season when injures decimate the team they just missed the postseason and the Thunders finished 45-37 straight up and 39-41-2 against the number.
However, it appears both Russell Westbrook and Kevin Durant are once again healthy, which has cranked up all expectations again for the upcoming 2015-16 season. Oklahoma City is clearly in the Top 5 of the NBA futures with their odds for winning the NBA title sitting from +500 to +900, depending upon the sportsbook one uses.
Some feel this could be the year of the Thunder, but not everyone is so upbeat. A number of things must go right for the team starting with a big offseason change that could be looked as an upgrade by some and something else by others.
That would be the signing of Billy Donovan as the new head coach. He finally left the campus of the University of Florida to become the Thunder head coach in place of Scott Brooks who led the team from 2008 through the end of this past season.
Donovan won two straight national titles at Florida back in 2006 and 2007. He signed to coach the Orlando Magic and then backed out and returned to UofF in 2007.
The records of college coaches in the NBA have been spotty. Rick Pitino was not successful and returned to the college ranks, as have others.
If Donovan is able to mesh with Durant and Westbrook and the two stay healthy all season, then yes, the Thunder have the team to contend for the West and possibly the NBA Title. However, if Donovan does not mesh with his top two players, the Thunder could miss the postseason for a second straight season.