PGA Championship: Last Major of Golf Season Tees Off on Thursday
August 10, 2015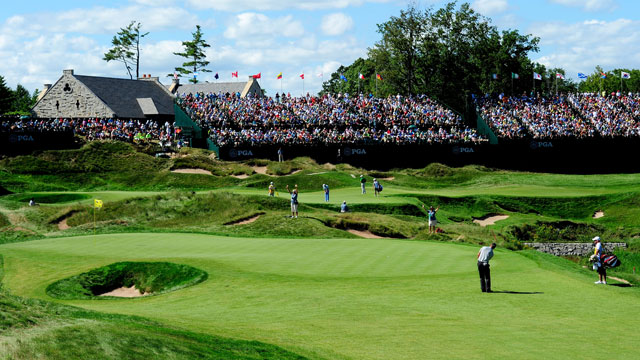 The 2015 golf season's fourth and final major will tee off on Thursday from Wisconsin when the PGA Championship opens at Whistling Straits in Kohler.
This year's field is expected to be loaded with talent including 15 past champions, with two-time winner Rory McIlroy.
McIlroy, who is the world's No. 1 ranked player opened with odds of 8 to 1 to defend his title back in the latter part of July, but injury worries have lengthened his odds to 10 to 1 on most sportsbooks, but even longer on others.
Most offshore sportsbooks have Jordan Spieth as the odds on favorite. The young Texan won two of the first three majors this season including the Masters and the U.S. Open. Spieth's odds are currently 11 to 2, slightly up from the ones he started with in July of 5 to 1.
There are some bettors out there that still believe Tiger Woods has an opportunity to win and odds makers have him currently listed at 30 to 1. After his embarrassing play last month at the British Open, he opened in late July at 60 to 1. Many golfing pundits even thought the 60 to 1 odds were quite generous on the part of odds makers.
However, there are some bettors out there that have bought into his most recent efforts, which included finishing 18th two weeks ago at the Quicken Loans National where he started the weekend in the top 10 but suffered a one over par 73 on Saturday to fall out of contention.
Zach Johnson who won the British Open last month has been given odds of 50 to 1 to win the PGA Championship.
Below are the top 10 odds for players at the PGA Championship.
2015 PGA Championship Top 10 odds
Jordan Spieth 11 to 2
Rory McIlroy 10 to 1
Jason Day 12 to 1
Dustin Johnson 13 to 1
Adam Scott 15 to 1
Justin Rose 15 to 1
Bubba Watson 20 to 1
Rickie Fowler 22 to 1
Henrik Stenson 30 to 1
Phil Mickelson 30 to 1
Tiger Woods 30 to 1
Phil Mickelson 30 to 1