Mets and Blue Jays Move Up in Updated World Series Odds
August 11, 2015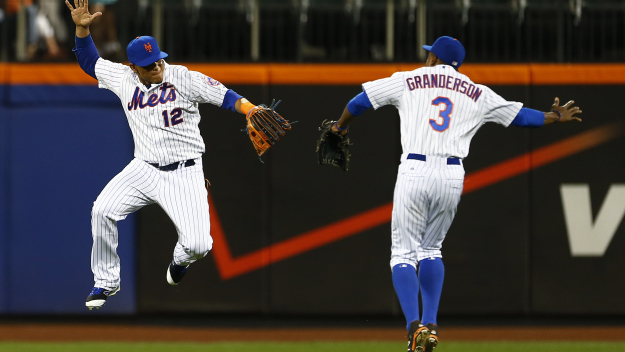 The 2015 MLB World Series is now less than two months away as the regular season head towards the home stretch. With the way the New York Mets and Toronto Blue Jays made important trade deadline moves that seem to have paid off, the betting market is paying attention.
Both the Mets and Blue Jays bought during the week of the trade deadline with both landing on the winner's list for teams in contention.
Just 10 days later, the moves for both appear to be paying off, as New York and Toronto are both contenders for the World Series in odds makers' eyes.
Toronto has won 9 of its past 10 games and has moved from 14 to 1 just after the trade deadline to 8 to 1 on Monday. In the American League East, the Blue Jays are just 1 ½ games behind the New York Yankees, whose odds to win the World Series have grown to 10 to 1.
In the National League East, the New York Mets have moved into first place and are also high on the World Series futures board.
New York won nine straight before losing last Saturday and Sunday, but game back and won on Monday, while the Nationals continue heading south, losing 14 of their past 23 overall.
The Mets have moved up to 10 to 1 to win the Series, while the Nationals amongst the favorites most of the season are now 12 to 1.
Since the trade deadline, St. Louis has pushed ahead of the Los Angeles Dodgers to become the only favorite to win the NL Pennant.
The Pittsburgh Pirates and Los Angeles Angels have seen their odds shortened since the trade deadline.
Houston despite a few solid moves before the trade deadline, and San Francisco are going through tough stretches at this moment and have dropped back on the futures board.
2015 WORLD SERIES ODDS
ROYALS 7 to 2
CARDINALS 5 to 1
DODGERS 6 to 1
BLUE JAYS 8 to 1
YANKEES 10 to 1
PIRATES 10 to 1
METS 10 to 1
NATIONALS 12 to 1
ANGELS 12 to 1
CUBS 12 to 1