NFL: Will Any Team Go Undefeated on the Road in 2015?
August 12, 2015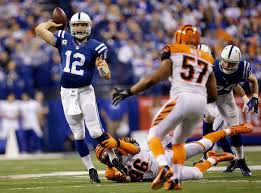 Since the 1970 merger, just eight teams in the history of the NFL have finished the regular season with an unbeaten record on the road.
In 2014, the Dallas Cowboys did that but still were not even close to reaching the Super Bowl. The big question is will it happened again in 2015.
Dallas was a surprise going 8-0 on the road in 2014. The team had a strong offense with Tony Romo, DeMarco Murray and Dez Bryant. This year Murray will suit up with archrivals Philadelphia.
Last season no one figured the Dallas defense would be good enough to win all eight games on the road, including at Seattle by 7 points. At one point, the Seahawks were ahead in that game by a score of 10-0.
The Cowboys won four more road games last year than home games, joining the New Orleans Saints, New York Jets and New York Giants with the biggest differential of wins on the road in comparison to at home.
The Cowboys however went down to defeat against Green Bay in the divisional playoffs becoming only the second of the eight perfect road teams not to reach the Super Bowl, with San Francisco the other in 1990.
The other teams to go unbeaten on the road were the Patriots 2007, Rams 2001, 49ers 1889, 49ers 1984, Redskins and Dolphins 1972.
Seven of the eight undefeated road teams were No. 1 seeds while Dallas was a No. 3 last season. No unbeaten road team had an overall record worse than 14-2, with the exception of Dallas at 12-4.
For a team to go 16-0 they must also be 8-0 on the road. Any team finishing 16-0 during the 2015 regular season is sitting at +6600 on many offshore books.
Atlanta might have the best opportunity of going undefeated on the road this season. Road foes for the Falcons had a winning percentage of .371 during last season. However, the Falcons do not have the talent to win 8 games on the road.
The top contender for the Super Bowl with the easiest schedule on the road is Indianapolis. The Colts opponents on the road had a combined record last season of .434.