Opening Night Odds Released for the 2015-16 NBA Season
August 16, 2015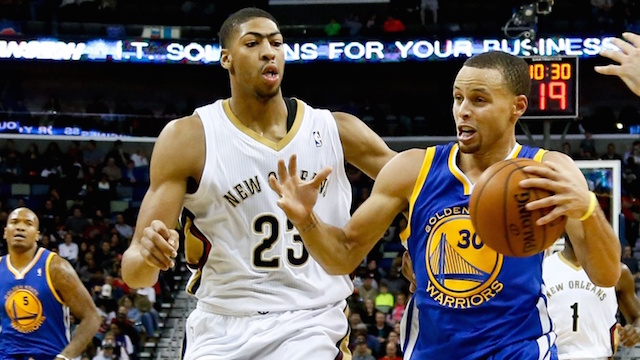 The opening odds for the NFL have been posted for the past few weeks, as the season is less than a month from its opening kickoff. However, the NBA regular season does not have its opening night until October 27. On opening night, there are three games.
The season starts anew with some big changes in lineups, new faces and some faces no longer on certain rosters.
On opening night, the Golden State Warriors, the defending champions of the league, will host the New Orleans Pelicans in a matchup of what is expected to be two strong teams in the NBA.
The lines for the first games of the season were released this past week and Golden State opened as double-digit home chalk over New Orleans. The Warriors swept the Pelicans in this past season's first round of the Western Conference playoffs.
The other two games on opening night are Cleveland visiting Chicago and Detroit visiting Atlanta.
The Cavaliers and star LeBron James opened as short -1 chalk on the road in Chicago at the United Center. Chicago was knocked out of the semifinals of the Eastern Conference this past season by Cleveland in six games.
The remaining teams in the league will start their respective season on October 28 as part of the NBA's 14-game opening night card.
Three teams from the first night the Pelicans, Cavaliers and Pistons will start the season with back-to-back games, meaning they will play again the second night of the season.
Even though the NBA season is over two months away, odds makers have posted the opening odds for the season's first two nights.
Odds makers like to entice bettors into taking futures bets on their favorite team or a particular club they are confident will cover on the first night of the season.
October 27, 2015
Pistons
Hawks -8.5
Cavaliers -1
Bulls
Pelicans
Warriors -10

October 28, 2015
Wizards -3
Magic
76ers
Celtics -8.5
Bulls -3.5
Nets
Jazz PK
Pistons
Hornets
Heat -6
Pacers
Raptors -3.5
Nuggets
Rockets -9.5
Cavaliers
Grizzlies -1.5
Knicks
Bucks -7
Spurs
Thunder -1.5
Mavericks -1
Suns
Pelicans PK
Trail Blazers
Clippers -7.5
Kings
Timberwolves
Lakers -3.5