Ohio State Remains Favorite to Win 2015 National Title
August 20, 2015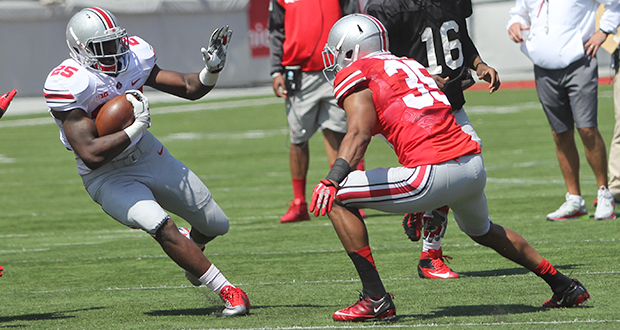 The 2015 college football regular season is two weeks away from its opening kickoff. While the national championship will not be played for another 4 months, odds makers continue to tweak the futures board as the college football season nears.
Ohio State is still the strong favorite to win the national title and  was adjusted slightly from 9 to 2 down to 5 to 2. The Buckeyes had been 9 to 2 since the day after they defeated Oregon to win the national title in January.
Two teams – Alabama and TCU – are tied for second in odds to win the national title at 5 to 1. OSU, Bama and TCU are the only teams priced to win in single digits. In fourth is Baylor sitting at 12 to 1 to win the title.
Two teams making significant moves higher on the board are Notre Dame and Auburn, while Oklahoma is not getting much respect by those in the betting industry as the Sooners have been dropped to 30 to 1 from 12 to 1, by bookmakers.
Even further down the futures board is teams such as Georgia Tech, Florida, Wisconsin and Mississippi State all priced at 100 to 1 to win the national title. Each one of those teams has seen its odds lengthened at one time during the past seven months.
Arizona State and Texas on the other hand are teams that are now 200 to 1 to win.
The game for the national title will be played January 11 and changes to the futures will be updated every Sunday before the start of another week.
The ride is about to leave the start finish line enjoy while it lasts.
2016 COLLEGE FOOTBALL CHAMPIONSHIP ODDS
OHIO STATE 5 to 2
TCU 5 to 1
ALABAMA 5 to 1
BAYLOR 12 to 1
USC 15 to 1
AUBURN 15 to 1
MICHIGAN STATE 20 to 1
NOTRE DAME 20 to 1
OREGON 25 to 1
CLEMSON 25 to 1