Sportsbooks Adjust Futures for MLB Home Run Totals
August 23, 2015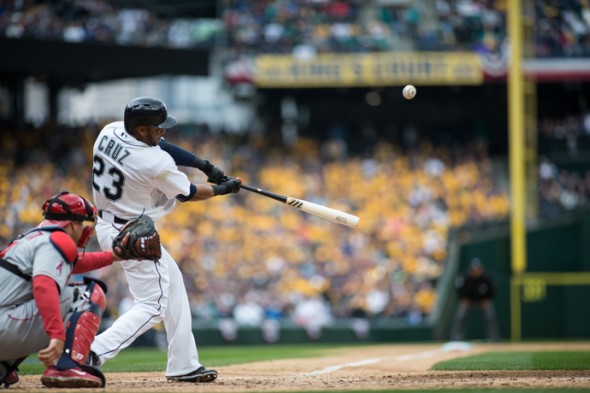 Not since late June had sportsbooks updated their odds for MLB's most popular betting prop – What player will hit the most home runs during the 2015 season, until know.
Back then, the favorites were Bryce Harper at 5 to 2 and Giancarlo Stanton at 4 to 1.
That has all changed. Fast forward two months. Stanton has not recovered from a serious injury and Harper cooled off. The odds for Stanton now sit at 45 to 1 while for Harper they are 35 to 1.
The prop's new favorite with odds of 5 to 4 is Nelson Cruz, a slugger playing for the Seattle Mariners who is leading MLB with 37 home runs.
Cruz began the season hot, hitting 18 home runs during April and May but cooled off during June with only one home run.
He has rebounded however, of late and has hit 17 homers over the past two months.
Just behind Cruz is Chris Davis from the Baltimore Orioles at odds of 2 to 1. Davis is tied for second in home runs with 34. Davis has hit 9 home runs during August.
Three players following Davis, with all three sitting on odds of 4 to 1 to win the home run title. Josh Donaldson for Toronto, and Mike Trout and Albert Pujols are tied for the next shortest odds. Donaldson currently has 34 home runs while both Pujols and Trout each having 33.
Trout hit 12 homers during July but only 1 thus far in August.
Donaldson's current 33 homers have already eclipsed his previous high for a season of 29.
Most Home Runs 2015 Regular Season
Nelson Cruz 5 to 4
Chris Davis 2 to 1
Albert Pujols 4 to 1
Josh Donaldson 4 to 1
Mike Trout 4 to 1
Mark Teixeira 25 to 1
Bryce Harper 35 to 1
JD Martinez 35 to 1
Giancarlo Stanton 45 to 1
Carlos Gonzalez 50 to 1
Jose Bautista 50 to 1
Nolan Arenado 50 to
Todd Frazier 50 to 1