Nelson Injury Causes Sportsbooks to Adjust Green Bay Futures
August 24, 2015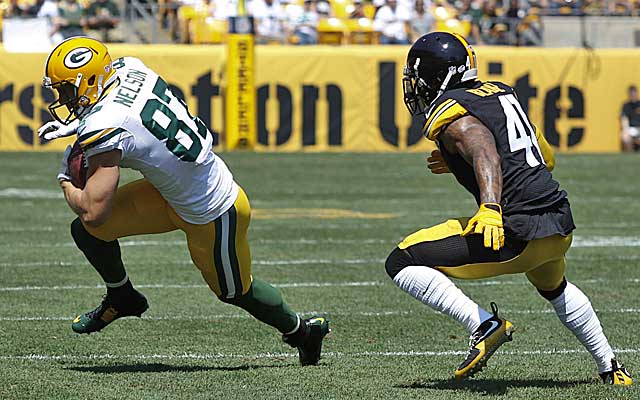 On Sunday, the Green Bay Packers played the Pittsburgh Steelers in an NFL preseason game. The outcome of the game was not that important to Green Bay, especially after wide receiver Jordy Nelson suffered what is expected to be a season-ending  knee injury.
Most feel that Nelson might have suffered an ACL tear and would then miss the full NFL season.
The Packers wide receiver was scheduled for an MRI early Monday to determine the full extent of his knee injury.
At the time of his injury, Green Bay was the favorite to win Super Bowl 50 in February, but his loss could prove to be highly detrimental to the futures bettors
Before the game started, Green Bay was 9 to 2 favorites to win Super Bowl 50 depending upon the sportsbook you checked. Just over 10% of the futures wagers for the Super Bowl had been placed on Green Bay to win
Nelson attempted to make a catch in the first quarter then landed on the ground clutching his knee. On the play, no contact was made on Nelson.
The Packers were awaiting the results to see what the doctors determine the extent of his injury is.
The beneficiary of Nelson's injury will likely be Davante Adams. The receiver seems to have both the necessary talent and strong work ethic to be a big factor in the offense for Green Bay during the upcoming NFL season.
Some sportsbooks stopped taking futures on Green Bay until the extent of Nelson's injury is determined and then they can make their adjustments to the Super Bowl favorites.
The loss of Nelson will likely move the Seattle Seahawks into the top spot as the new favorite to win Super Bowl 50. The Packers should not drop too far as they have many other weapons that Aaron Rodgers their MVP quarterback can go to.
One sportsbook already has lengthened Green Bay's futures to 6 to 1 and adjusted the Packers win total from 11 UNDER (-110) to 11 UNDER (-150).
Nelson led Green Bay last season with 98 receptions for 1,519 yards and 13 TDs.