Teams With the Biggest Home Field Advantage in College Football
August 29, 2015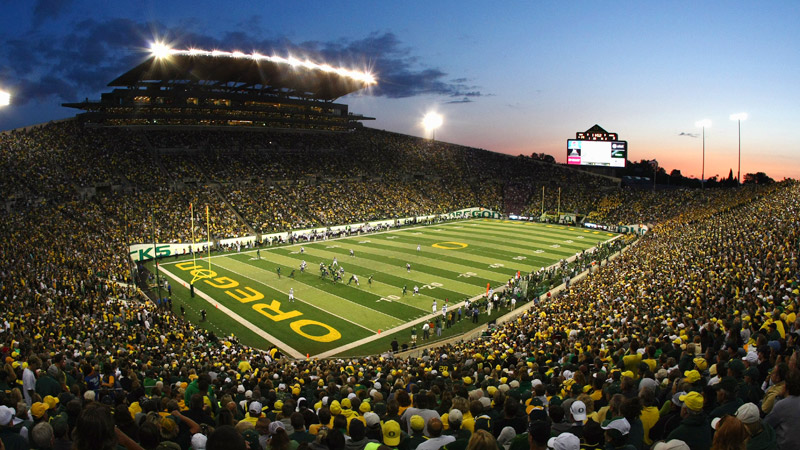 College Football's 2015 regular season starts next week. In college football, the home team traditionally is given three points playing on their home field. However, the three points across the board does not always work for all the 128 teams in the FBS.
Certain college football programs are notorious for having large theoretical point spread advantage when playing in their home stadium in front of tens of thousands of loyal, screaming fans.
The team with the biggest home field advantage is the Oregon Ducks, with an impressive -6 at Autzen Stadium. Not only is there loads of noise from the crowd but Oregon's up-tempo offense wears opponents down. Over the past decade, the Ducks are 59-8 straight up and 39-23-2 against the spread at home despite having -25 spreads or more in some of those games.
The next best home field advantage is a tossup between the Wisconsin Badgers and Ohio State Buckeyes. Both are sitting at -5.5. Over their past 69 home games, the Badgers are 62-7 SU and 39-27 ATS
Ohio State over its past 72 homes games is 65-7 SU and 43-28-1 ATS.
A number of teams have point spread advantages at home of -5. Those teams include the Alabama Crimson Tide, Florida State Seminoles, Oklahoma Sooners and the TCU Horned Frogs.
The last group of teams with a higher point spread at home than -3 are those at -4.5. Teams that have that spread advantage at home include the Baylor Bears, Auburn Tigers, Clemson Tigers, Kansas State Wildcats, Nebraska Cornhuskers, Oklahoma State Cowboys, Stanford Cardinal and UCLA Bruins.
Oklahoma State is 28-14-1 ATS over the last 10 seasons as a favorite at home.
So if strength of home field advantage will help you make a more educated pick at the bettor's window, be sure to look over the current lines and take into consideration the home field edge certain teams have.
This gives you an idea how the bookmakers end up coming up with their spreads week in and week out during the college football season.