Will American Pharoah Be Beat at the Travers Stakes?
August 29, 2015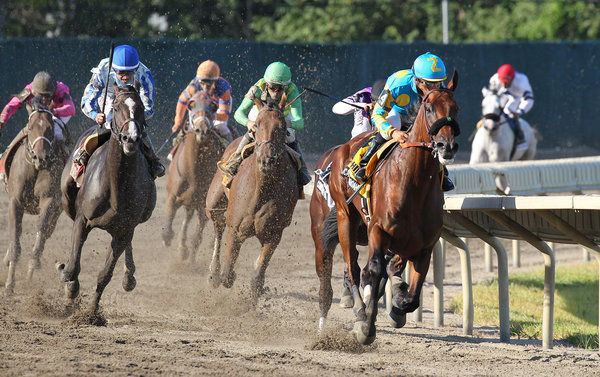 The Travers Stakes will run on Saturday and American Pharoah the Triple Crown winner will try to keep intact his historic run when he races nine other thoroughbreds in the race with a total purse of $1.6 million, at Saratoga's 1 ¼-mile track.
Despite the talented undercard, there is little doubt this is all about the Triple Crown winner, as Saratoga Springs is now known as Pharoatoga thanks to Bob Rafferty his trainer and Zayet Stables his owner announcing a week ago he would try to win the Midsummer Derby.
Since he became the first winner of the Triple Crown in 37 years with his win at the Kentucky Derby, Preakness Stakes and Belmont Stakes, he has raced only once, a win at Monmouth Park in the Haskell Invitational.
American Pharoah at the Haskell sat back off the pace early, before taking the lead on the far turn and ended with a 2 ¼-length victory, which was his eighth straight overall and seventh win at G1 over his career nine races.
The same weekend the Haskell was run Texas Red defeated Frosted in the Jim Dandy, a prep for the Travers.
Texas Red the winner of the Juvenile at the Breeder's Cup last fall was winless in only two starts in 2015 heading into the Jim Dandy, as his season has been shortened due to a foot issue. He ran well holding off Frosted by a length and looks to a big threat to Pharoah on Saturday.
Frosted was 3-5 chalk for the Dandy but lost a shoe just after the start. However, he managed to run well to finish second.
Frosted finished fourth at the Derby, second at both the Belmont and Jim Dandy and will be after American Pharoah from the start on Saturday.
If there is a race that could end American Pharoah's hot streak, it is this one. Frosted looks tough and Texas Red will give it a strong run.
The lean here is on Frosted, but one never knows in this sport.