Philadelphia Eagles Moving Up Odds Makers Boards
September 1, 2015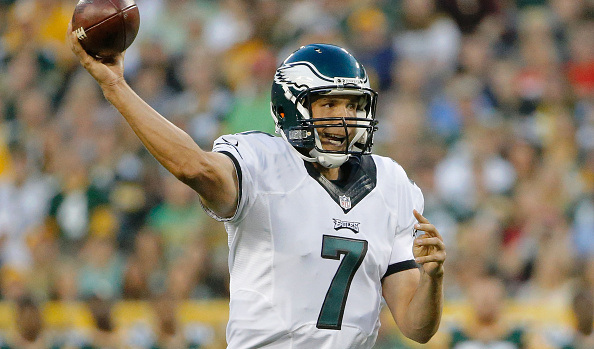 The Philadelphia Eagles are starting to get the attention of odds makers. No one ever wants to be overly excited about what takes place during the preseason in the NFL, but when you watch the Philadelphia Eagles, it is difficult not to be excited. The Eagles have won their three preseason games to date by an average of 38-17.
Yes, the bottom line is it is only preseason, but the offense in Philly is already clicking no matter whom the quarterback is. Both Sam Bradford and backup Mark Sanchez have great stats combining to throw six touchdown passes with no interceptions.
The offense is averaging 429 yards a game with 150 of that rushing.
While most odds makers and sportsbooks do not adjust power ratings all that quickly in preseason, the exception to the rule has been with Philadelphia.
One sportsbook shortened the Eagles odds to win Super Bowl 50 to 8 to 1 from 12 to 1 on Monday.
In mid-July, Philadelphia was a pick 'em for their Week 1 opener with Atlanta, but now is 3-point chalk. The games of the year on some sportsbooks were changed where the Eagles were involved. On September 20, at home against Dallas, Philly was -2.5 and is now -3.5, which is a big changed over the key 3 point margin for a division game between two huge rival.
During July, Philadelphia's win total on most sportsbooks was 9.5 with the UNDER paying -130. However, between the number of OVER bets and adjusting for air, the Eagles are now at 9.5 with the OVER on -150.
A number of sportsbooks are saying how the small bettors have hit the Eagles hard in this preseason with the popular Eagles and OVER parlay. With that parlay bettors are 3-0 with its value of 13 to 5, during the first three weeks of the preseason.
People have questioned Chip Kelly's decision to let certain star players go, but are now seeing all the pieces start to come together. Now fans and bettors are buying into his system, as are the sportsbooks.
Only three teams – Seattle, Green Bay and Indianapolis now have shorter odds to win the Super Bowl than the Eagles.