Mayweather Jr vs. Berto OVER on Rounds a Solid Choice
September 12, 2015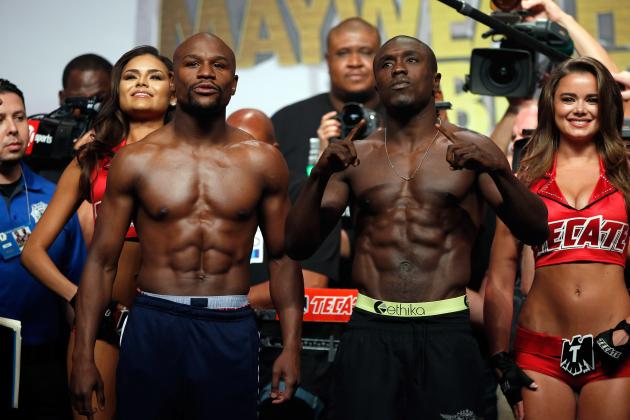 Floyd Mayweather Jr. fights what could be his last professional fight on Saturday September 12 at the MGM Grand in Las Vegas against Andre Berto.
Mayweather is currently the -3500 favorite in the bout, with the underdog's odds at 14 to 1. While laying $3,500 just to win a paltry $100 does not sound like a great deal of fun, it is almost impossible to envision Mayweather going down to defeat for the first time in his professional career. Therefore, it almost seems futile to take Berto even with the long odds.
There is however, other attractive ways a gambler can approach this championship bout.
One such prop is the total rounds for the bout. Many sportsbooks have that at 11.5 with the OVER odds at -215 and the UNDER bettors receiving +185.
Mayweather rarely ever knocks opponents out at this stage of his career. He does own 26 knockouts on his resume of 48 fights, but his last bout stopped was in September of 2011 or seven fights ago.
In the three losses Berto has suffered in his career, each one would have cashed on the OVER.
While you would be laying odds of 2 to 1, the OVER of 11.5 rounds is a bet that is reasonable with a very good chance of it cashing out.
There is also the prop for a decision that has Mayweather winning by decision. The price of that is -220 once again good odds for something that most likely will happen.
Bettors however have taken Berto on some sportsbooks.
Close to 97% of all tickets that have been written on one site and 69% of the money wagered on moneylines have been put on the challenger.
In addition, Berto in a decision, which is now 30 to 1, has attracted over 50% of the bets on the prop for the fight outcome.
Prizefights have very big gaps in odds for boxers often times, where a gambler is willing to risk a smaller wager for an opportunity for a huge payday.
However, in this bout, the best bet is to lay the odds and take the prop Mayweather in a decision or OVER on 11.5 rounds.