Sportsbooks Update College Football Futures, Auburn Nosedives
September 16, 2015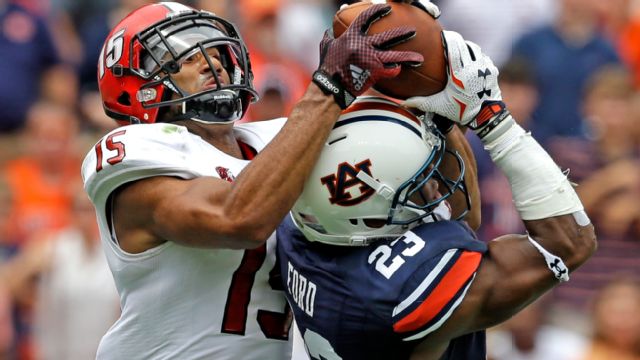 After two weeks of college football, odds makers have updated their college football playoff futures. Everyone knows what one loss can do to a team's chances of winning a national championship, but what about a team needing to go to overtime to beat a team in the FCS.
Last weekend that happened to be Auburn. The Tigers dropped to No. 18 from No. 6 in the top 25 poll following an OT win of 27-20 over Jacksonville State. Odds makers followed suit by doubling the odds of the Tigers to win the national championship to 30 to 1 from 15 to 1.
Prior to their narrow win on Saturday, Auburn was listed as a 1-point road dog against LSU, following the game the spread moved and by late Tuesday was sitting at LSU -7.5.
That point spread gives a huge indication of what people think when it comes to power ratings at this point of the season.
The Tigers played poorly against Louisville in Week 1 and then Louisville was beaten by Houston and by all rights the Tigers should have lost to Jacksonville. It makes it hard to believe Auburn will go into LSU and play its best game, it just does not add up.
Some believe that Auburn is far better than what they have shown thus far and are waiting to see which opponent will take the brunt of their punishment once they have started to play the way they are capable of.
Until then they will either maintain their continual decline in the rankings or at least level off somewhere between No. 10 and No. 20.
Ohio State remained at the top at 8 to 5 to win the national title after two strong games, while TCU played better in Week 2 and is second at 6 to 1 and Alabama sits at third at 8 to 1.
Odds to Wins 2015 College Football Playoff
OHIO ST 8 to 5
TCU 6 to 1
ALABAMA 8 to 1
BAYLOR 10 to 1
MICHIGAN ST 10 to 1
USC 12 to 1
CLEMSON 20 to 1
GEORGIA 20 to 1
LSU 20 to 1
OLE MISS 20 to 1
UCLA 20 to 1
AUBURN 30 to 1