Odds Makers Release Updated Heisman Trophy Odds
September 17, 2015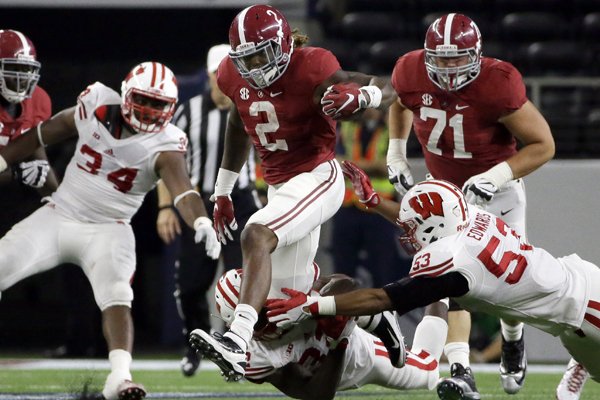 The race for the 2015 Heisman Trophy continues in college football as we approach Week 3. The rally by Oklahoma from a deficit of 17 points to defeat Tennessee in overtime 31-24  last weekend has propelled Baker Mayfield the Sooners quarterback into the top 10 of favorites for the coveted trophy.
Both Derrick Henry from Alabama and Leonard Fournette from LSU, a pair of SEC running backs, had their odds shortened as well.
At the same time, Cardale Jones the Ohio State quarterback and teammate Ezekiel Elliott were unchanged since last week.
Deshaun Watson the Clemson quarterback dropped the most in the race for the Heisman, slipping from the top tier of players despite having a passer rating of 184.6 to start the season. A solid performance on the road against Louisville could change the fortune of the Clemson sophomore QB.
Top Five with Shortest Odds
Ezekiel Elliott, RB Ohio State
Odds: 7 to 1
Odds Last Week: 7 to 1
Elliott has a 5.9 yards per carry average. He should run up the yardage on Saturday against Northern Illinois. The Buckeyes have rushed for 260 yards or more against MAC opponents.
Trevone Boykin, QB TCU
Odds: 7 to 1
Odds Last Week: 7 to 1
Boykin has started the season solid. He has thrown 5 touchdown passes in two games and leads TCU this weekend against a weak SMU pass defense.
Derrick Henry, RB Alabama
Odds: 8 to 1
Odds Last Week: 10 to 1
Henry made a big jump on the futures board amongst the top 5 candidates after running for six touchdowns through two games with a per carry average of 7.8 yards. He will face a tough time this weekend against the Ole Miss defensive front, but with a strong performance could help solidify his spot amongst the top three candidates.
Nick Chubb, RB Georgia
Odds: 9 to 1
Odds Last Week: 9 to 1
Leonard Fournette, RB LSU
Odds: 9 to 1
Odds Last Week: 12 to 1