Current Lines for Pac-12 Ranked Teams in Action This Week
September 22, 2015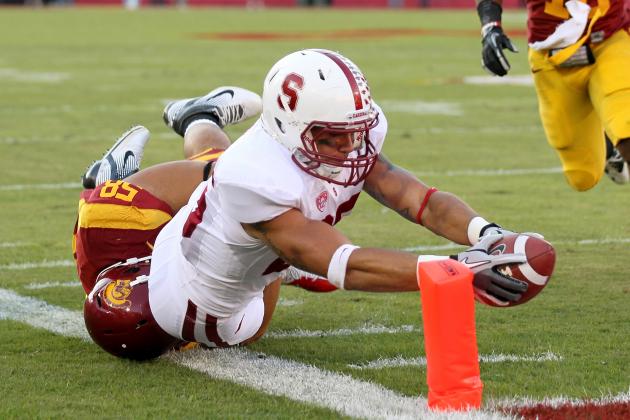 The fourth week of the 2015 college football regular season starts on Thursday. Thus far, this season, the Power Five conferences dominate the AP Top 25 as they usually do with the Big 10 at No. 1 and No. 2.
However, the Pac-12 has six schools in the Top 25 led by No. 9 UCLA. This week a number of the Pac-12 teams in the top 25 are in action and this is a look at their early lines.
No. 21 Stanford vs. Oregon State
Current line: Stanford -15
Coming of a big upset of 41-31 over USC, which was ranked No. 6, the Cardinals are laying more than two touchdowns against Oregon State Friday night on the road. Stanford covered as 13.5-point chalk last season at home versus the Beavers in a comfortable win 38-14.
No. 9 UCLA vs. No. 16 Arizona
Current line UCLA -3
This game should have lots of scoring, but last year odds makers had 70 for a point total and just 24 were scored. However, once again Arizona is scoring loads of points and will be playing at home. You can guarantee a wild atmosphere for this game. This one will be much higher scoring than the 24 points scored last season. Look for the high 60s.
No. 18 Utah vs. No. 13 Oregon
Current line: Oregon -13
Another matchup of two Pac-12 teams in the top 25, with both quarterbacks banged up, but both listed as probable, which means they likely will play. However because of that, most sportsbooks have not released a total points number as of yet.
No. 19 USC vs. Arizona State
Current line: USC -6
USC opened at -1 when this was listed back in June as one of the college games of the year. Many people had Arizona State pegged as a top 15 team, which they still could accomplish but they lost early to Texas A&M. The Pac-12 is going to have tough matchups week in and week out and ranked teams or not will not be a gimme, especially playing on the road. This could be an upset.