NFL Super Bowl 50 Futures Updated
September 23, 2015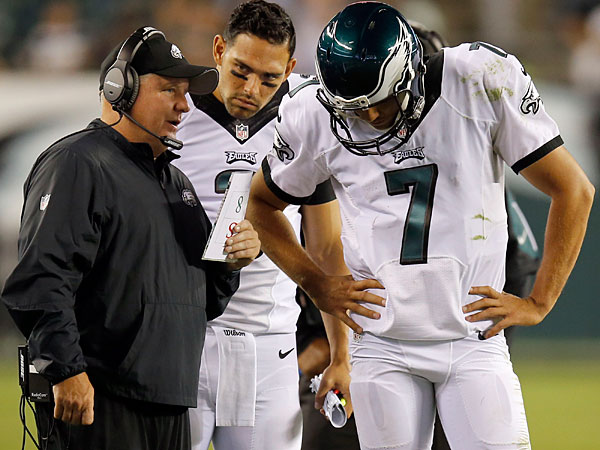 Starting your NFL season 0-2 is not good for a team's chances of winning a Super Bowl. Since 1990, only 12% of teams in the NFL that lost the first two games of the season have even reached the playoffs.
The Indianapolis Colts and Philadelphia Eagles each started the regular season with futures odds of 8 to 1 to win Super Bowl 50 in February. Both have started the season 0-2.
Their just updated futures prices reflect their difficult path to the postseason let alone the Super Bowl. Indianapolis is now 16 to 1 and Philadelphia is now 20 to 1 to win it all.
Baltimore, which was listed prior to the start of the season with odds of 16 to 1 to win the Super Bowl, has also stumbled out of the gate and is 0-2 as well.
When injuries occur, especially to a quarterback, they are another reason that odds makers adjust a team's number for the Super Bowl. Tony Romo the quarterback for Dallas broke his clavicle bone Sunday after the team lost Dez Bryant its start wide receiver in Week 1. Despite a 2-0 start by the Cowboys, odds makers lengthened their Super Bowl odds for second consecutive week to 20 to 1.
New Orleans, who also sits at 0-2 to start the season, is expected to play without star quarterback Drew Brees for a period and has been dropped to a long shot of 80 to 1 to lift the Vince Lombardi trophy.
Green Bay remains the favorite for odds makers to win it all this season with their odds being shortened this week to just 3 to 1 after defeating Seattle on Sunday. New England is second at 5 to 1.
Top Five Shortest Odds to Win Super Bowl 50
Green Bay Packers
Super Bowl odds: 3-1
NFC odds: 3-2
NFC North odds: 1-8
New England Patriots
Super Bowl odds: 5-1
AFC odds: 2-1
AFC East odds: 1-3
Seattle Seahawks
Super Bowl odds: 8-1
NFC odds: 4-1
NFC West odds: 5-7
Denver Broncos
Super Bowl odds: 9-1
AFC odds:  4-1
AFC West odds: 5-8
Arizona Cardinals
Super Bowl odds: 14-1
NFC odds: 7-1
NFC West odds: 2-1