Updated College Football National Championship Odds
September 23, 2015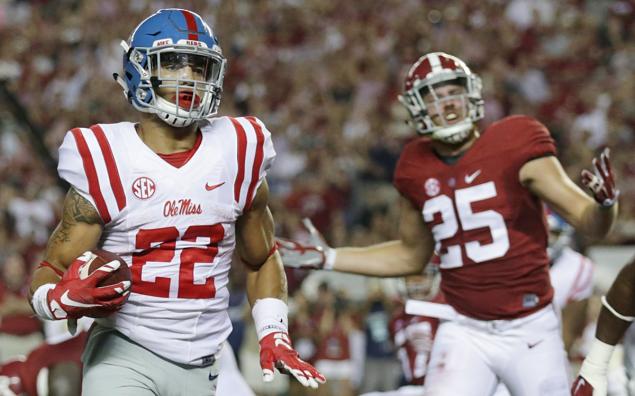 The SEC has moved up the futures board for winning the national championships after three weeks of the college football regular season.
The Big 10 however holds two out of the top three spots on the futures board for most sportsbooks, but three teams from the SEC made strong moves up the board after important wins this past week.
With a win on the road over Alabama, Ole Miss saw its odds to win the national championship cut in half to 10 to 1 from 20 to 1. LSU handily beat Auburn, while Georgia did the same over South Carolina and both saw their odds moved to 12 to 1 from last week's 20 to 1.
Alabama saw its odds lengthened thanks to its loss to Ole Miss to 12 to 1 from 8 to 1.
The favorite is still Ohio State but after a struggle in Week 3 with Northern Illinois, the Buckeyes had their prices lengthened to 7 to 4 from last week's 8 to 5.
USC, following a loss to Stanford at home, moved down the futures boards having its odds adjust to 25 to 1 from its 12 to 1 a week ago.
Odds for Notre Dame to win the national championship were moved to 40 to 1 from 12 to 1 last week after Malik Zaire when down with an injury that ended his season. However, the Irish won in impressive fashion last week over then-No. 14 Georgia Tech and regained some of their mojo from odds makers who tightened their odds a bit to 25 to 1.
COLLEGE FOOTBALL NATIONAL CHAMPIONSHIP
OHIO ST 7 to 4
TCU 6 to 1
MICHIGAN ST 8 to 1
BAYLOR 10 to 1
OLE MISS 10 to 1
LSU 12 to 1
GEORGIA 12 to 1
ALABAMA 20 to 1
CLEMSON 20 to 1
UCLA 20 to 1