BYU vs Michigan Has UPSET Written All Over It
September 25, 2015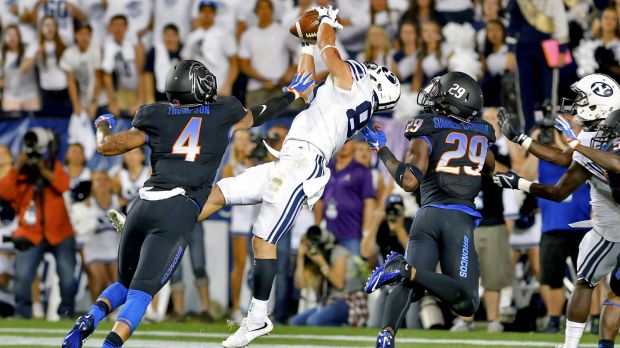 Saturday's college football lineup has a number of upset possibilities but one that seems to jump off the paper at you is the BYU at Michigan game.
The current line has Michigan favored by 7 points with the over/under point total on 45.
No. 22 ranked BYU it seems has the market cornered on dramatic endings after three weeks of the season. Each of its three games has been decided in either the final snap or the last minute of play.
Tanner Mangum has had to replace Taysom Hill at quarterback, which is not an easy task since the entire offense was revolved around Hill.
Hill was hurt last season and the team disappeared for four games losing each of them. Following that tailspin, they won four straight.
Without Hill this season, the team is sharing the running duties once again and it seems to be working.
Mangum is not any ordinary freshman. He went on his Mormon mission of two years prior to playing football and is far more mature than someone so young.
Michigan has been struggling with its offense of late as new coach Jim Harbaugh put his new system in place. Jake Rudock the Wolverines quarterback is adequate, nothing more.
He has a high completion rate of 65% but he cannot throw downfield very well. He is ranked at No. 68 in passing, which says it all.
The Wolverines will need their running game as well which averages 185 yards per game along with its tough defense.
Michigan's defensive stats have been built against teams like Oregon State and UNLV of which both have new coaches. Neither of the programs has proven to be a big offensive powerhouse this year.
BYU could be tired from a third road game, but the team has played against stiff competition and has a number of players who are older and have traveled on their missions and traveling across the country will not bother them.
This game should go down to the wire, which should not surprise anyone since BYU is playing.
The 7 points is an added advantage, as this could end up being an outright win for the Cougars.