Sportsbooks Release 2015-16 NBA Win Totals
September 30, 2015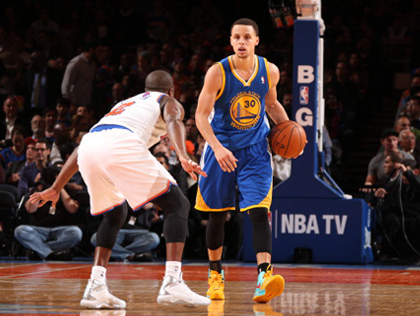 At midweek, we shift gears from the gridiron to the hardwood court as odds makers work is never finished. Sportsbooks this week posted the win totals for the 2015-16 NBA regular season and bettors can now jump into the fray.
The list is topped by the defending NBA champion Golden State Warriors at 60.5 wins. That figure is lower than the 67 wins that the team had when they won the championship last season.
One odds maker said that many times there is what is described as an elasticity effect as a team that enjoyed extreme improvement one year often is expected to regress the next.
Following Golden State on the futures for total wins are the San Antonio Spurs at 58.5 wins and the Oklahoma City Thunder at 57.5 wins.
All three of the top teams and six of the top seven teams are from the Western Conference, showing the overwhelming depth of talent that conference has over the East.
San Antonio is also the second favorite to win the NBA title in 2016 and is getting strong support on the futures board, something odds makers likely considered when posting the win totals.
Currently, San Antonio is 4 to 1 to win the NBA title and some of that has to be translated to regular season wins.
The Spurs are consistently in the mid to upper 50s in wins each season and because of them being supported on the NBA title futures boards, their win total was likely upped to the upper 50s.
As for Oklahoma City, getting its top scorer Kevin Durant on the court is huge. The team with the exception of last season has performed near this season's wins total the past four or five seasons.
The Cleveland Cavaliers, led by the trio of LeBron James, Kevin Love and Kyrie Irving are the Eastern Conference's highest rated club with a 56.5 win total just behind the Thunder.
Both Kobe Bryant and Carmelo Anthony return this season and their two franchises should rebound, but neither is considered playoff material.
NBA 2015-16 REGULAR SEASON WIN TOTALS
WARRIORS 60.5
SPURS 58.5
THUNDER 57.5
CAVALIERS 56.5
CLIPPERS 56.5
ROCKETS 54.5
GRIZZLIES 50.5
BULLS 49.5
HAWKS 49.5
PELICANS 47.5
RAPTORS 45.5
WIZARDS 45.5
HEAT 45.5
BUCKS 43.5
CELTICS 42.5
PACERS 42.5
JAZZ 40.5
MAVERICKS 38.5
SUNS 36.5
PISTONS 33.5
HORNETS 32.5
MAGIC 32.5
KNICKS 31.5
KINGS 30.5
LAKERS 29.5
NETS 28.5
NUGGETS 26.5
TRAILBLAZERS 26.5
TIMBERWOLVES 25.5
76ERS 21.5