National Championship and Heisman Trophy Updates
October 15, 2015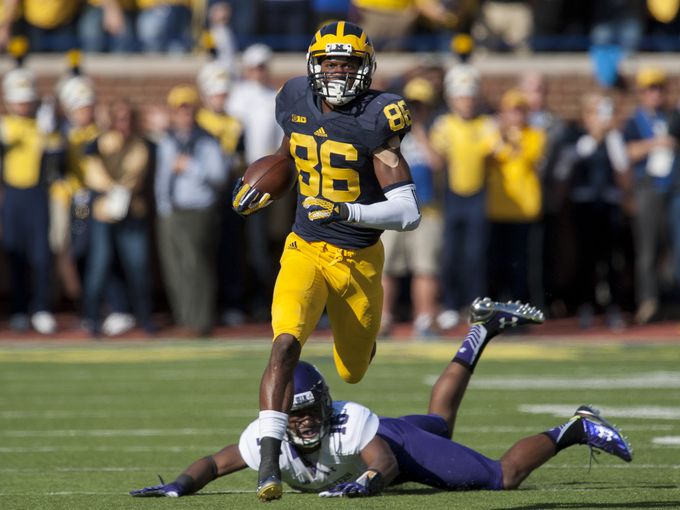 Despite a loss in their opening game, Michigan jumped over in-state rivals Michigan State on the futures board for college football's national championship.
At odds of 10 to 1, Michigan is the fourth favorite to win the national title. On Saturday, the Wolverines are 7.5-point chalk at home against the Spartans.
Making moves upward on the futures board this week leading up to Week 7 were Alabama, Clemson and Texas A&M. All three have odds of 12 to 1.
Clemson saw its odds more than halved following its rout of Georgia Tech.
Clemson's two toughest remaining games on its schedule for the regular season are Miami and Florida State. They are currently 5.5-point chalk against Miami and -4 with FSU.
A path to reach the Final Four or the College Football Playoff looks to be favorable for the Tigers.
The Florida Gators saw their odds dropped to 50 to 1 from 30 to 1 after the suspension of Will Grier their starting quarterback.
TOP FIVE ODDS 2015-16 NATIONAL CHAMPIONSHIP
OHIO ST 5 to 2
BAYLOR 5 to 1
LSU 8 to 1
MICHIGAN 10 to 1
ALABAMA 12 to 1
TEXAS A&M 12 to 1
CLEMSON 12 to 1
The race for the Heisman Trophy continues. However, it looks as if the grip of Leonard Fournette the star sophomore running back with the LSU Tigers is getting stronger and stronger at the top.
Fournette has already run for 1,022 yards and has scored 12 touchdowns in just 5 games. His odds to win the trophy have been cut in half to 1 to 2 from 2 to 1, during the past two weeks.
Second in line to Fournette was Nick Chubb the Georgia running back, but he suffered a season ending injury to his knee last week in a loss to Tennessee.
Second place in the race is held by Trevone Boykin at 10 to 1. The quarterback at TCU was the favorite during the preseason. Ezekiel Elliott the star running back at Ohio State is third at 11 to 1. Cody Kessler dropped from the top 10 in odds, as USC has lost two of three.