Sportsbooks Win Week 6 in NFL Thanks to Colts
October 20, 2015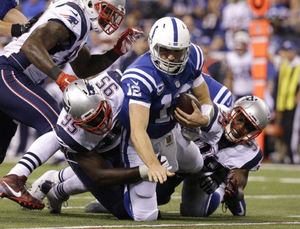 Week 6 in the NFL is in the books and Indianapolis may have lost their game to New England, but they kept it close enough so bookmakers were able to earn the win for the week over bettors.
The week's games came down to if New England, always popular with bettors, would cover a spread of 8.5 points on the road in Indy.
At half the score was Colts 21-20, but then New England tightened its defense and went up 34-21. However, the Colts were able to come through with a back-door cover TD with only 1:19 on the clock.
The positive outcome for the house on that touchdown was nearly short-lived as New England's Rob Gronkowski came close to converting a touchdown on the ensuing Colts on-side kick. He grabbed the kick and looked to have a clear path to the end zone but stepped out of bounds.
With that win New England is 5-0 and joined Carolina, Denver, Cincinnati and Green Bay as the only undefeated teams left in the league.
Only the Bengals and Panthers were able to cover this past weekend out of the unbeaten teams, which put Cincinnati at an incredible 5-0-1 ATS and has bettors going to them each week, costing sportsbooks dearly.
This Sunday, Cincinnati -3 was able to turn what had been a tight game into an easy 34-21 win at Buffalo.
The Kansas City Chiefs are now 1-5 and bettors are shifting over to take any team that is playing them because their ATS record if just 1-5 as well.
Pittsburgh moved to 5-0-1 ATS with its outright upset of the Arizona Cardinals, behind Landry Jones a third string quarterback.
Carolina with its comeback win over the Seahawks is finally getting some respect for public bettors, while Seattle dropped to 1-3-1 ATS.
Green Bay won by seven, but did not cover for the first time all season, which helped bookmakers and hurt the public.