Review of College Football Week 8 Results
October 26, 2015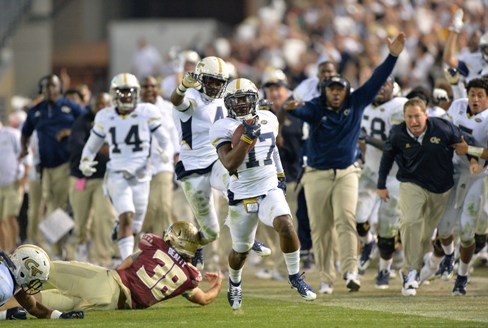 Week 8 in college football is now in the past with Week 9 ready to kick off shortly.
Last week's results were not very good if you were a dog. The favorites were 45-11 straight up and 32-22-2 against the spread.
Home teams ruled this week again with a record of 41-15 SU and 32-33-2 ATS. The point total went to the UNDER this week, with the UNDER cashing 32 times, the OVER 23 times, with one PUSH.
The underdogs with the biggest point spread to win outright was Northwestern +7 over Nebraska with a final of 30-28 and Georgia Tech +6 versus Florida State with the final 22-16.
The two biggest favorites to cover the spread for the week were Brigham Young at +50.5 as the Cougars won 70-6 over Wagner. Oklahoma State was -33.5 and beat Kansas by 48 points 58-10.
This was the second consecutive week that a team in the Top 25 lost on the last play of the game due to a gaffe on special teams. Michigan lost last week when there was a fumble on an attempted punt and Florida State was the victim in Week 7.
With the scored tied at 16, Florida State was attempting a field goal against Georgia Tech to win the game in the last seconds of regulation.
In that situation, the results are usually a made field goal win the game or missed field goal play overtime.
However, it did not turn out that way. The Yellow Jackets blocked the field goal and returned the kick with no time left on the clock for a touchdown and win. The loss was the first in the ACC for FSU since October of 2012 a span of 29 conference games.
In some polls, Utah was up to No. 3 in the nation entering its Saturday showdown with USC. Many college football pundits were shocked to see USC favored by as much as a touchdown at some books. However, the sharps all took USC, finding good quality in the offense for the Trojans. The sharps were right again as USC prevailed 42-24 to shake up Pac-12 race and the national playoff picture.
Thanking USC were teams such as Alabama, Michigan State and Clemson, amongst others.
Clemson blanked Miami 58-0 costing Miami's head coach his job.
Baylor beat Iowa State by 18 but lost Seth Russell to a neck bone fracture. It is uncertain the amount of time he will miss, but Baylor does not have another game until November 15.