Baylor Remains Second on Futures Board Despite Russell Injury
October 28, 2015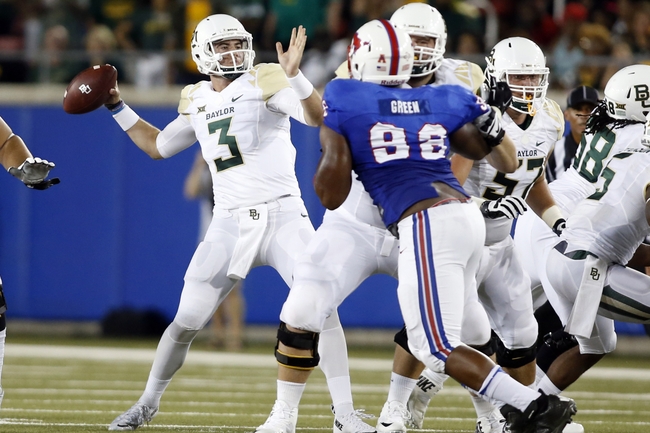 College football enters Week 9 of the regular season on Thursday. Like in any sport, injuries play an important role in how teams fare on the field and in the eyes of odds makers.
Seth Russell Baylor's Heisman Trophy candidate went down with a season ending injury in last week's game.
However, odds makers seemed not to even blink an eye on the news as they have given the Bears a sign of respect by keeping them No. 2 on the futures board for the national championship only adjusting the odds slightly to 9 to 2 from last week's 4 to 1.
Glancing at Baylor's remaining schedule, the odds they have are tough to believe. Following a week off due to a bye this week, Baylor will travel to Kansas State, will be home against Oklahoma, travel to Oklahoma State, visit TCU and play at home against Texas. Not one of their remaining games is a gimme.
Russell, who must have surgery to repair a cervical vertebra in his neck, was injured in last weekend's win over Iowa State. He will be replaced by Jarrett Stidham a freshman. Russell was second in the race for the Heisman Trophy prior to getting injured as he leads all FBS quarterbacks in passing efficiency at 189.7, in passing touchdowns with 29 and passing yards per each completion at 17.6.
Some analysts have said this week that Baylor will have a tough time winning the national championship not because Stidham is not talented, but because he has not had the game time experiences needed when your team is on the road with a noisy crowd.
However, Baylor sits at No. 1 in at least one power rankings list and at No. 2 in the AP as well as coach top 25 polls.
2015-16 COLLEGE FOOTBALL CHAMPIONSHIP
OHIO ST 9 to 5
BAYLOR 4 to 1
ALABAMA 6 to 1
STANFORD 8 to 1
LSU 10 to 1
MICHIGAN ST 10 to 1
CLEMSON 10 to 1
TCU 15 to 1
NOTRE DAME 15 to 1
OKLAHOMA ST 20 to 1