Sportsbooks Unfazed by First College Football Playoff Rankings
November 4, 2015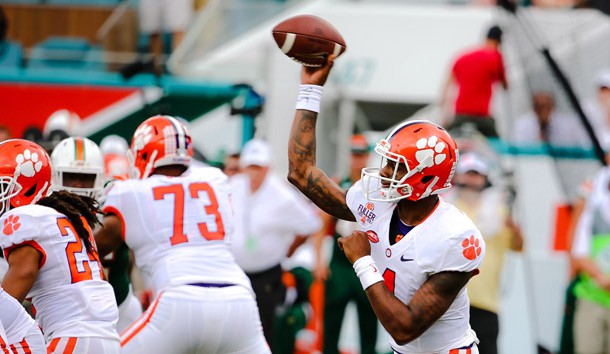 The first College Football Playoff rankings were released this week and odds makers online and in Vegas could care less. One manager of an offshore sportsbook said the ranking meant a big fat zero to him.
While the rankings eventually will determined what four teams will have the chance to play in the college football playoff for the national championship, there are a number of weeks of college football left that could, often do and most likely will, shake things up.
The first rankings have little or no effect on the odds to win a national title as far as bookmakers see it.
The rankings by the selection committee are determined through the team's games the teams have already played, while the schedule that remains plays a far larger role in setting the odds for the future.
Before any playoff field is set, there will be a great deal of movement in the rankings as more conference games are played and then conference championships are played.
That shakeup will start this Saturday, when the No. 2 LSU Tigers will play the No. 4 Alabama Crimson Tide. One of the teams is likely to be knocked out of the first Top 4, when the updated rankings are released next week.
The other two teams in the top four of the first rankings are No. 1 Clemson and No. 3 Ohio State.
Clemson has the easiest road to the college football playoff. The Tigers biggest foe is likely Florida State but then they have Syracuse, Wake Forest and then South Carolina. They could be sitting pretty come playoff time.
However, for No. 6 Baylor things are far from easy. The Bears must play K-State, Oklahoma, Oklahoma State, TCU and Texas.
In of itself the schedule is tough, but add to it playing without starting quarterback Seth Russell makes it even tougher. However, some pundits believe that Jarrett Stidham will fill in just fine for Russell and that Baylor still has a solid change to win a national title.