Henry Making Late Charge for Heisman, Fournette Still Favored
November 12, 2015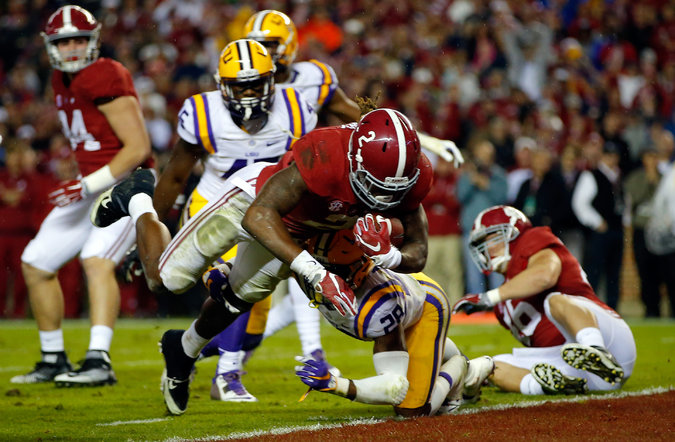 The odds this week were lengthened for Heisman Trophy favorite Leonard Fournette the running back for LSU. The sophomore saw his odds moved to even-money from 1 to 3 to win the prestigious award.
It is the first time his odds have lengthen since he assumed the status as favorite during Week 4.
The LSU rusher played the toughest defense against the rush in the nation last week and ran for just 31 yards and a single touchdown as his Tigers lost 30-16 to Alabama.
According to multiple reports and those who witnessed the game, Fournette had nowhere he could run gaining 30 yards following contact.
On the other hand, Fournette's counterpart in the game, Alabama's Derrick Henry put up numbers that have become familiar for Fournette with 210 yards on the ground and 3 touchdowns on an incredible 38 carries.
It was Henry's second game of 200 or more yards rushing in his past three games overall. Henry is making a late dash for the top of the odds board for the Heisman.
Trevone Boykin the TCU quarterback and at one time the favorite to win the Heisman dropped out of the top 5 for the first time all season. He is a long shot sitting at odds of 30 to 1. Boykin's TCU Horned Frogs lost to Oklahoma State 49-29 last week and the quarterback threw four interceptions. The loss likely eliminated TCU from the season ending College Football Playoff.
Of course, with more conference games on the schedule and each game having bowl game and national title implications, it is likely the odds board for the Heisman Trophy will see a great deal of movement of players.
However, it is unlikely that the top two players will move that much as they are cementing their spots to be invited to the presentation of the trophy in late December.
Top 5 Heisman Trophy Candidates
Leonard Fournette – LSU
Derrick Henry – Alabama
Corey Coleman – Baylor
DeShaun Watson – Clemson
Ezekiel Elliott – Ohio State