Derrick Henry Moves into First Place in Heisman Race
November 19, 2015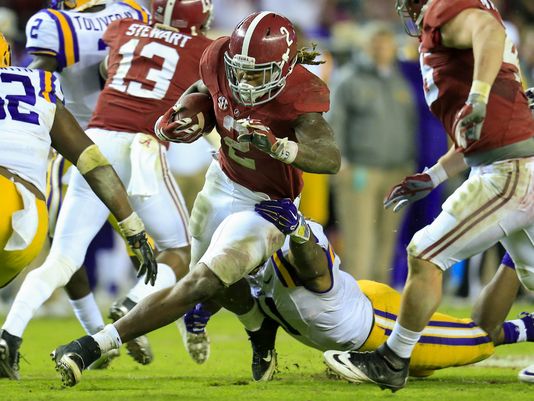 A couple of weeks ago, Leonard Fournette the sophomore running back for the LSU Tigers looked to have a lock on the Heisman Trophy after running for over 200 yards in four consecutive games.
However, two weeks ago, the Tigers traveled to Tuscaloosa to play the Alabama Crimson Tide who locked down the talented running back.
Last week the Tigers lost their second straight game and Fournette was held under 100 yards rushing for the second consecutive game, after reaching the century mark in nine straight games previous to the past two.
Rushing past Fournette and into first place on odds makers' futures board for the Heisman Trophy was Alabama's running back Derrick Henry. With three weeks left in the regular season, Henry raced past Fournette into first place on the futures boards.
Henry is now even money to win the award the end of December. The Alabama powerhouse running back has run for 200 or more yards in three of his past four outings.
Henry, just a junior, is the second Crimson Tide player in the history of the program to record three 200-yard games in the same season.
Henry has scored a touchdown in 15 straight games, which leads the nation.
Fournette saw his odds drop to 9 to 2 and is followed closely in third place by two candidates at 5 to 1. DeShaun Watson the talented quarterback for the Clemson Tigers and Ohio State running back Ezekiel Elliott.
Odds makers pulled Trevone Boykin the preseason favorite from TCU off the futures boards following his ankle injury that kept him from playing last weekend's game against Kansas. He is questionable for the showdown TCU has this weekend against Oklahoma the No. 7 ranked team.
Slipping out of the top five was Corey Coleman the wide receiver for Baylor. He did not score a touchdown for the first time all season last week in his team's loss to Oklahoma and caught only 3 passes on the day for 51 yards.