Week 13: Rivalry Weekend in College Football
November 24, 2015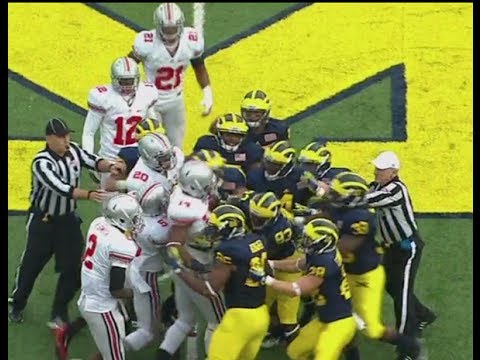 Week 13 of college football is known as rivalry weekend. This weekend's rivalry matchups have seven ranked-versus-ranked games that will keep the bettor on the edge of his seat from noontime on Saturday to the early morning hours of Sunday.
The ranked games include No. 8 ranked Ohio State coming off its first loss of this season visiting the No. 12 ranked Michigan Wolverines. This game should be one of the best as both teams are desperate for a win.
The Battle of Florida pits No. 14 ranked Florida State visiting No. 10 ranked Florida, while No. 4 ranked Notre Dame will head west to battle with No. 13 ranked Stanford.
The Big 12 has two all important games on the schedule with both featuring a pair of ranked teams. In one game, the No. 7 ranked Baylor Bears must visit No. 16 ranked TCU and in what is called the Bedlam game, the No. 5 ranked Oklahoma Sooners will visit the No. 19 ranked Oklahoma State Cowboys.
A number of football fans will see if Ohio State will bounce back from its first lost. Emotionally the loss was huge and takes a lot of a team as the national championship aspirations were hit hard.
If the Buckeyes could win out and if Clemson or Alabama were to lose, they might steal the No. 4 seed in the College Football Playoffs, but those are big ifs and long shots at best.
Stanford is favored over Notre Dame, as the Irish come in banged up. The line has already gone up to Stanford -3.5 from its opening of -3.
Stanford's offense is finding is rhythm and with Notre Dame battling for a CFP spot, this matchup will be intense and emotional for all involved. A mistake late in the game could decide this one.
These are only seven of the games being played on rivalry weekend. There are games across the nation that will decide who will play in conference championships games including Tuesday night as Northern Illinois needs to win to secure a spot in its sixth consecutive MAC championship game.