Alabama Favored to Win National Title By Sportsbooks
November 25, 2015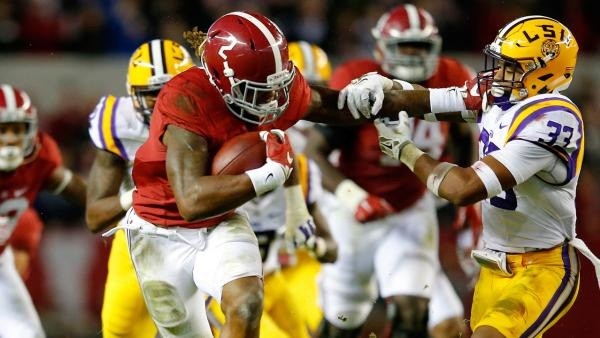 If your future's bet has not been made on Alabama, now is not a time to join the fray. The odds for the Crimson Tide to win the National Championship are now just 3 to 2 on some books, which is a price that is not worth the investment.
If you think Alabama the No. 2 team in the latest rankings for the College Football Playoffs will win, here is a slightly different strategy of betting to take into consideration.
Starting with Saturday's Iron Bowl versus Auburn, play 'Bama using the moneyline and then roll those winnings over each 'Bama game after that.
Each week the Crimson Tide will be the favorite, but when they are up against some of the best teams in the country during the playoffs, they will not be such big favorites that they currently are.
If they are able to win four consecutive picks on the moneyline with them, there will be a bigger payoff than just taking them at their current 3 to 2.
The Clemson Tigers have remained No. 1 in the latest rankings and are sitting at 4 to 1 odds to win the national title.
At No. 3 is Oklahoma, while No. 4 went to Iowa. The Sooners are 7 to 1 to win the title, while Iowa is 20 to 1. At No. 5 is Michigan State ate 12 to 1 and dropping from No. 4 to No. 6 is Notre Dame, which is 8 to 1.
The rankings mean little at this point, as there are big games to be played by each team. Iowa for example must beat Nebraska and win the championship game of the Big Ten.
Oklahoma needs to beat Oklahoma State and is not safe even if it does, as there is no championship game for the Big 12 to showcase them to the voting committee. Both TCU and Baylor were overlooked for the final four due to that last season.