Fab Five Fighting for Four College Football Playoff Spots
November 30, 2015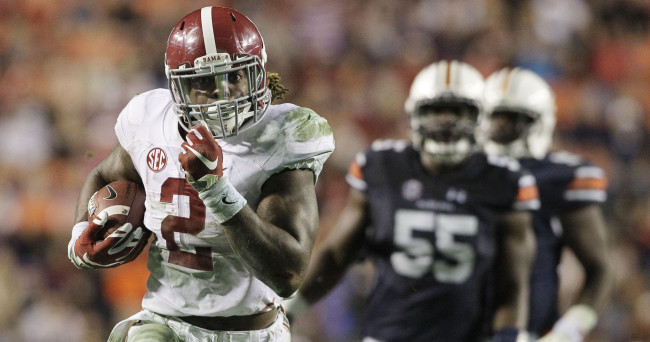 Odds makers in college football are setting their lines for the upcoming conference championship games. The games could make or break the season for teams as win and they could be invited to the College Football Playoff or lose and play in a late December of New Year's bowl game.
Here are my fabulous five heading into the big conference championship games.
Alabama is 11-1 SU and 7-5 ATS. On Saturday the Crimson Tide grinded to a win over Auburn in the Iron Bowl. The Tide will now face Florida in the SEC title game. A very late score by Derrick Henry cashed all Alabama tickets as they won 29-13.
Iowa is 12-0 SU and 7-5 ATS. The Hawkeyes kept their perfect record intact with a win over Nebraska. The win was not as dominating has many thought it would be. However, the 28-20 win is what mattered and covered the number. Iowa will now play Michigan State for the Big Ten title this week in what is the most anticipated conference title game of all.
Michigan State is 11-1 SU and 5-7 ATS. It is all about how you finish the season and Michigan State came up big with its win over Ohio State two weeks ago and will face Iowa in the Big Ten championship game with the winner almost assured of a spot in the Final Four of the CFP. The Spartans crushed Penn State over the weekend, which helped put an exclamation mark on their regular season.
Oklahoma is 11-1 SU and 9-3 ATS. The Sooners have done exactly what was needed by leaving no doubt regarding what team is the best in the Big 12. The Sooners embarrassed the Oklahoma State Cowboys 58-23. Without a conference championship game, Oklahoma must have all fingers and toes crossed in hopes of winning a spot in the CFP.
Clemson is 12-0 SU and 5-6-1 ATS. The Tigers will play a very tough North Carolina for the ACC championship. A win will assure them of a spot in the Final Four, while a loss will likely see them pushed down to sixth or seventh with Ohio State likely taking their place.
Honorable mention goes to Ohio State, North Carolina