Odds Makers Adjust Odds to Reflect College Football Playoff Rankings
December 3, 2015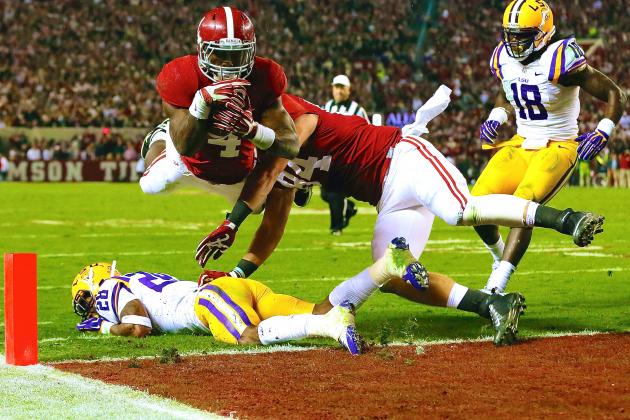 Odds makers have finally read the hand of the College Football Playoff selection committee and adjusted their odds for the playoff accordingly.
Despite Oklahoma being opposite Alabama in a national semifinal matchup if the rankings were to hold in the College Football Playoff, the Sooners now have the second shortest odds to win the national title.
One reason is that many bookmakers are expecting a change in the rankings after the conference title games are played this weekend.
Oklahoma will likely stay 2 or 3 with Alabama likely moving to the top spot. If Clemson beats North Carolina then look for the Sooners to fall to four, with Clemson and the winner of Iowa and Michigan State moving to 2 and 3.
Rumors have it that the selection committee does not want Oklahoma to play the semifinal game that is in Arlington, Texas as it would be too close to home and given them an advantage. The Sooners will likely be matched up in the Miami game.
Oklahoma now sits at 5 to 2 to win the national title, which is up from its 7 to 1 odds of last week.
Alabama remains the top choice to win the title and with a win this weekend over Florida, they would remain the top choice to take the title.
Some odds makers said that if Alabama were to meet Oklahoma for the title the Tide would be between 2.5- and 3-point chalk and likely as much as 7-point chalk versus Clemson.
Of course, Michigan State or Iowa will be thrown in there and North Carolina could always jump into the fray with an upset over Clemson in the ACC championship on Saturday.
Here are the odds to win the College Football Playoff National Championship Game January 11, 2016
Alabama                     6 to 5
Oklahoma                  5 to 2
Clemson                     5 to 1
Michigan State         8 to 1
Ohio State                 15 to 1
Iowa                           20 to 1
North Carolina        30 to 1
Stanford                    40 to 1