2016 World Series Begins Tuesday With Chicago Cubs as Heavy Favorites
October 24, 2016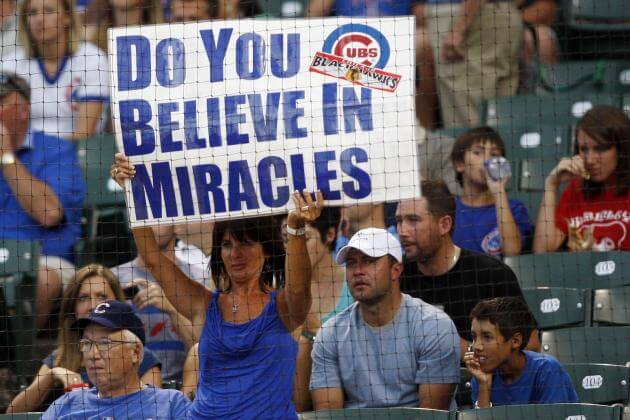 The 2016 World Series will begin its best of seven series on Tuesday in Cleveland when the Indians host the Chicago Cubs.
Odds makers have made the Cubs a heavy betting favorite to win the Fall Classic. The first lines were released shortly after the Cubs had beaten the Los Angeles Dodgers in Game 6 of their National League Championship Series.
The Cubs are 4 to 7 favorites to win the World Series, while the Indians open the series at 8 to 5. Chicago has not won a World Series since 1908 and Cleveland has not won since 1948.
Chicago began the season at 5 to 1 to win the World Series and has remained the favorite to win it all, the entire season, with its odds dropping slightly during a poor patch close to the All-Star Game break in mid July.
The Cubs ended the season with the highest win total at 103, while Cleveland was fourth in total wins with 94.
Jon Lester pitched very well for the Cubs in the NLCS in Games 1 and 5 giving up just one earned run and striking out 8 across 14 innings of work during the series.
Cleveland's ace on the mound this season has been Corey Kluber who will start Game 1. Kluber on the season was 18-9 with an ERA of 3.14.
Kluber during the postseason is 2-1 with an ERA of 0.98 including two shutouts.
Danny Salazar an injured starting pitcher for Cleveland could pitch during the series in some way after a Sunday simulated pitching session.
Salazar last pitched for the Indians on September 9 when he complained of tightness in this forearm, but his progress has been strong the last week.
Trevor Bauer will start Game 2 for Cleveland while Josh Tomlin will start Game 3.
Jason Kipnis the starting second baseman for Cleveland sprained an ankle when celebrating on the field following Cleveland's pennant win over Toronto, but should he fine to start Game 1.
Chicago manager Joe Maddon has not yet released his list of starting pitchers for the first three games.