Manziel Reportedly Seen Gambling in Vegas Prior to Cleveland Finale
January 4, 2016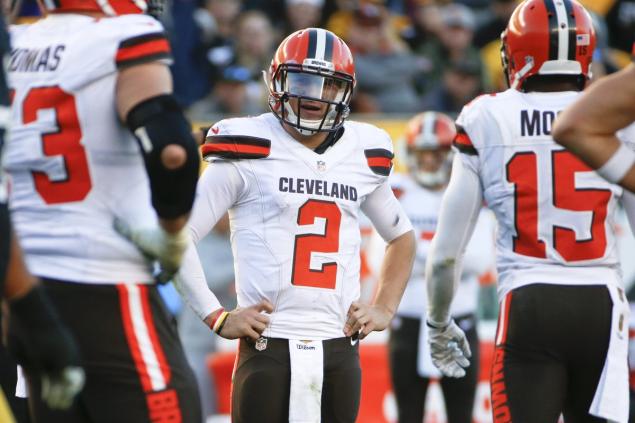 On the night before the Cleveland Browns were to play their season finale at home against the Pittsburgh Steelers in an AFC North showdown with playoff implications for the Steelers, it was reported that Browns quarterback Johnny Manziel was spotted in Las Vegas gambling.
Manziel, who had been scheduled to miss the game due to not passing concussion protocol, was seen on Saturday night dining as well as gambling at the Planet Hollywood casino in Las Vegas according to numerous employees and casino patrons who had interacted with the Brown signal caller.
Manziel, who Mike Pettine, the at-the time Browns coach, said must address a number of problems he has off-field, that have resulted in last year's stint in rehab, apparently paid for a meal in cash at a casino restaurant.
Manziel was also apparently seen playing at one of the blackjack tables and one casino employee examined his ID and said, we have Johnny Manziel playing with us tonight. That came from one of the casino patrons who was a witness to that exchange.
Manziel, who is just 23, was a starter in six games for Cleveland this season, but had already been ruled out of playing on Sunday versus Pittsburgh, a game in which the Browns lost.
The Browns ended the season with a disappointing 3-13 record.
When contacted the vice president of communications for the Browns would not confirm that Manziel was still in Cleveland or elsewhere, or if it was club policy that a player who is inactive needed to be in attendance on Sunday at the game.
As word spread of his presence in the Las Vegas area, Manziel posted a photo of him on Instagram with his dog, adding that Avon, Ohio was the location of the photo.
Manziel is said to have not shown up at a required meeting with medical staff on Sunday morning at 9:00 am for those in concussion protocol.
Word is that Manziel does not want to return to Cleveland but would rather find a way to play in Dallas with the Cowboys.
Both Pettine and general manager Ray Farmer were fired Sunday afternoon by Cleveland as wholesale changes were being made to the front office of the Browns.