Frigid Cold Could Play a Big Role in Seahawks-Vikings Game
January 6, 2016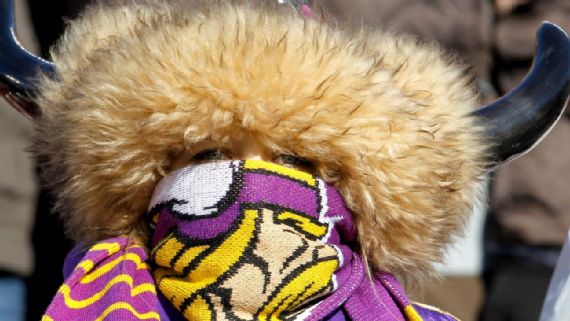 This weekend the weather could be a big factor in one of the wildcard games in the NFC, when the Minnesota Vikings host the Seattle Seahawks. The weather has a slight effect on the betting line but could make the line move a great deal on Saturday and more so Sunday morning before the kickoff.
The line has stayed between Seattle -5.5 and -6 but that could change if the weather forecast holds on true this weekend.
Meteorologists are calling for Sunday to be the coldest day of this season thus far. That weather will certainly not favor Seattle a team that is used to playing in milder climate.
Even though the temperatures are expected to remain below zero for the entire game, the betting public thus far has overwhelmingly supported Seattle with many sportsbook taking 80% of the action thus far on Seattle.
Minnesota is no slouch having won the NFC North title on Sunday by defeating Minnesota. The Vikings have the best NFC record this season against the spread at 13-3, while Seattle is 8-7-1 ATS this season.
The head-to-head series between the two has been dominated by Seattle winning the past three all by 10 or more points.
However, Minnesota was 1-5 ATS over its past 6 games heading into Lambeau Field last Sunday and walked away with not just a cover, but also an outright win and the NFC North title.
Mother Nature will play a big role however. With winds forecasted to be 10 to 15 miles per hour and a high temperature of zero, a turnover or a big play could decide the outcome of this game. The wind chill is expected to be between -15 and -19 degrees Fahrenheit.
Two of the three coldest games on record in the NFL have been played by Minnesota.
Seattle must control the ball and not make turnovers or Minnesota will not only cover but possibly win outright.
Stay tuned to the line movement in this game as the weather forecast is adjusted and the line moves up or down accordingly.