Game 7 of NBA Finals Was the Most Bet Game Ever in the NBA
June 22, 2016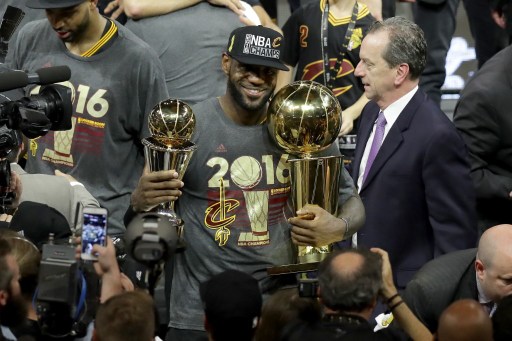 The NBA Finals were won by the Cleveland Cavaliers in seven games over the Golden State Warriors. On Sunday, Game 7 was the best game of the entire series and had a bit of everything including huge television ratings, high prices for tickets and for sportsbooks a record breaking betting handle.
In Sunday's seventh and decisive game of the series more money was wagered than in any other game played in the NBA at anytime, according to a number of veteran bookmakers in Nevada.
Bookmakers said that Game 7 was the most bet game ever played, while Game 6 was not far behind as the second most ever bet in any one NBA game.
One online sportsbook said that the betting handle for Game 7 was nothing short of massive. Another bookmaker said his site took three times the number of bets and three times the overall handle for the final game than it did in the regular's season's most heavily bet game on February 27 when the Warriors played Oklahoma City.
For one well known sportsbook, Game 7 represented over 29% of all money bet including on the point spread, point total and moneyline during the seven games of the NBA Finals.
The volume was not the only thing that sportbooks' noticed, but the size of many of the bets was much larger than usual. A number of bets of six-figures were taken in Game 7, which is usually scarce for a game in the NBA Finals.
One book reported that its largest bet was a high six-figure bet that took Cleveland +5.
Ticket prices were also high for Game 7. StubHub sold two seats for Game 7 at a price of $49,500 each. The final game of the series was also the most watched game in the NBA since the 1998 NBA Finals Game 6 between the Chicago Bulls and Utah Jazz.
The handle was huge, but Cleveland rallying from down 3-1 in the series was not an ideal situation for sportsbooks. Small losses were reported in many online sites and in Vegas.