Can Adrian Peterson Defy Odds to Win NFL Rushing Title
July 13, 2016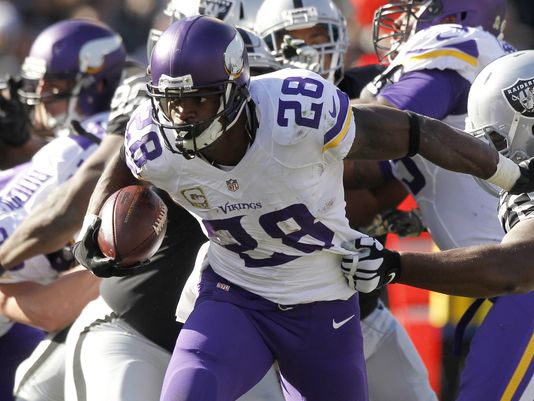 Odds makers will give odds on many different statistical categories for the 2016 NFL regular season. One of those stats is for who will lead the NFL in rushing and will they go OVER or UNDER the yards total odds makers have chosen for them.
There is likely not other team in the NFL that relies more a single running back to be the main source of offense than do the Minnesota Vikings.
Adrian Peterson led the NFL in rushing last season and is the odds on favorite to do so again in 2016. Odds makers on most sportsbooks have given Peterson a rushing total of 1,310.5 yards for the season.
Most NFL pundits believe the career of a running back, if he is still playing, takes a huge dip at the age of 30. That is the figure when the physical beating a back takes finally catches up with him.
Rarely big numbers are posted by running backs aged 30 or older. The examples are too endless to list here. The hits just continue to pile up and eventually the runner's body has little left in his tank when he reaches 30.
That is what was so impressive about last season for Minnesota's Peterson. He led the Vikings almost signal handedly to a title in the NFC North with 1,485 yards rushing that led the league.
He is the second oldest running back to ever win the NFL rushing title. He was 30 years and 289 days old and Curtis Martin, now a member of the NFL Hall of Fame was 31.
Peterson was helped physically due to being suspended for 15 of 16 regular season games in 2014. His body rested and his batteries were recharged. He came out strong and refreshed in 2015.
Just three teams rushed the ball more often than Minnesota last season. Minnesota has 474 attempts on the ground, while Carolina had 526, Buffalo had 509 and Seattle has 501.
Peterson this season could be helped by the mediocre run defenses of the NFC North teams Chicago, Detroit and Green Bay. The Vikings play the three teams a combined six times.
The 1,310.5 yards is a big number for a veteran of 31 years old to reach, but the OVER could have value.