Ezekiel Elliott to carry the Dallas Cowboys to the NFC East title?
October 26, 2016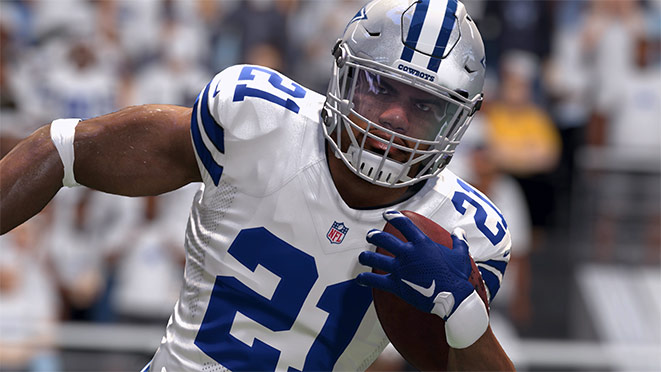 At the beginning of the season, most Dallas supporters had low expectations ahead of what would be a difficult year for the franchise. Star quarterback Tony Romo had been ruled out for the majority of the campaign after picking up an injury during a pre-season game against the Seattle Seahawks and Dez Bryant was struggling to inspire confidence with no viable threat out of the backfield.
However, the rookie duo of Ezekiel Elliott and Dak Prescott have raised their game to lead Dallas to a 5-1 record; including five wins on the spin since losing to the New York Giants in their opening game of the campaign. Jason Garrett's men are dominating on both sides of the ball and the Cowboys are sitting pretty with a one game advantage at the top of the NFC East.

While Prescott's rise to prominence has been incredible, Elliott's powerful running game has attracted the majority of attention – and rightly so. The fourth overall pick from this year's draft has already racked up an impressive 703 yards at an average of 5.1 yards per carry and his sensational form has helped to keep opposing defences honest for Prescott in the passing game.
Elliott's 157 rushing yards in Dallas' victory over the Green Bay Packers saw the former Ohio State star become the first rookie to record over 130 rushing yards in four consecutive games after – an astonishing achievement. When the Cowboys drafted Elliott in this year's draft, everybody knew that he would be a success but not many believed that he would be historically good.
Ezekiel Elliott is making history! He is the first rookie to have four straight 130-yard rushing games in NFL history. (via @EliasSports) pic.twitter.com/3AILqqsz68

— SportsCenter (@SportsCenter) October 16, 2016

In fact, some are even discussing the possibility of Elliott rushing for over 2,000 yards this season – something that has been done just once in the last five years. If the Cowboys are serious about winning the division and challenging the rest of the NFC for a place in this season's Super Bowl, they MUST keep feeding Elliott the ball. So far, he has had 137 carries and his workload may increase if he continues to prosper behind what is widely regarded as the best offensive line in football.
As of October 18th, the Dallas star is averaging just over 22 carries a game; and he is on target to record just over 1,850 yards on the ground. Even if he fails to reach the magical 2,000 rushing yards mark, Elliott's prowess and ability to catch out of the backfield should see him record at least 2,000 scrimmage yards – and that is whether the Cowboys stick with Prescott or revert back to Tony Romo when he returns to full fitness.
Right now, it is difficult to justify breaking up the Elliott-Prescott combination – especially as Elliott is on track to eclipse Eric Dickerson's long-standing record of 1,808 yards in a rookie season.
Six weeks into the new season and the Cowboys are looking incredibly strong, with their chances of Superbowl success valued at 14/1 in the Betway betting odds. If Garrett has any sense, he will place all of his faith in Prescott and stick with the rookie duo when Romo returns. After all, have Dallas ever really achieved anything with Romo under center? You could argue that it is time for a change at AT&T Stadium.
Given time, the Cowboys could blossom into an elite NFL team but for now, they should focus on one game at a time. With Ezekiel Elliott rampaging in the running game, anything is possible and a shock Super Bowl could be on the cards. It would be foolish to rule Dallas out…