Betting Results from NFL Week 14
December 12, 2016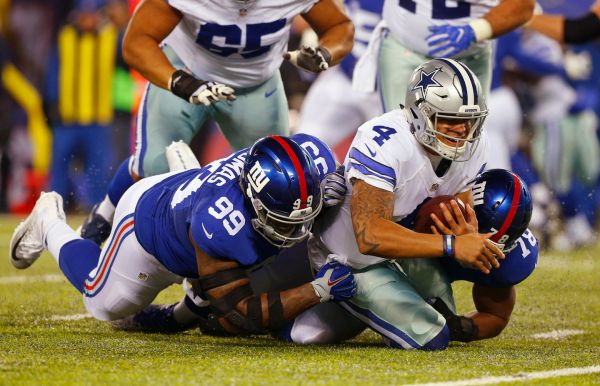 Week 14 of the NFL regular season, with the exception of Monday Night Football between New England and Baltimore, is in the books. Here is a quick look at the betting results.
Favorites on the week were 10-5 straight up and 9-6 against the spread. Home teams were 8-7 SU and 7-8 ATS. The over/under was 6-9 on the week.
The three biggest underdogs to win outright were Houston +6.5 over Indianapolis 22-17, the New York Giants +3.5 over Dallas 10-7 and Green Bay +3 over Seattle 38-10.
The three biggest favorites that covered were Atlanta -5 over Los Angeles 42-14, Cincinnati -4.5 over Cleveland 23-10 and Minnesota -3.5 over Jacksonville 25-16.
Washington was impressive with its road win of 27-22 over the Philadelphia. The cover was the Redskins' fifth over the past six games and tenth in its past 12. The OVER has now cashed in six straight Redskins games and is 11-2 over the 13 games Washington has played this season.
Chicago lost to Detroit but covered for the fourth straight time. The Bears are 3-10 straight up on the season, but are 5-1 ATS over their last 6 games played after beginning the season 1-6 ATS.
The UNDER cashed in 9 of 15 games during the week. A few of the UNDER games were not even close. The Cowboys and Giants combined to score 17 points on a 47-point line.
In five games with AFC teams, the UNDER cashed in 4, while in six games between NFC teams the totals split 3-3. In four games between an AFC team and NFC teams, the total split on the over/under 2-2.
Injuries worth mentioning that could influence next week's lines include.
San Diego running back Melvin Gordon hurt his hip and was taken from the field in a cart. He did not return.
Indianapolis wide receiver Donte Moncrief hurt his hamstring and did not return.
Miami quarterback Ryan Tannehill hurt his knee and there is worry it is tear in his ACL.
Philadelphia running backs Wendell Smallwood and Darren Sproles both did not return after hurting their knee and head respectively.
Jets running back Matt Forte left the game with a knee injury and did not return.
Matthew Stafford the Lions quarterback dislocated his thumb as well as suffered damage to a ligament. He did return and should play through that injury.
Green Bay quarterback Aaron Rodgers hurt his calf but returned and should be fine for next week.