2017 Heisman Trophy Watch Update
March 20, 2017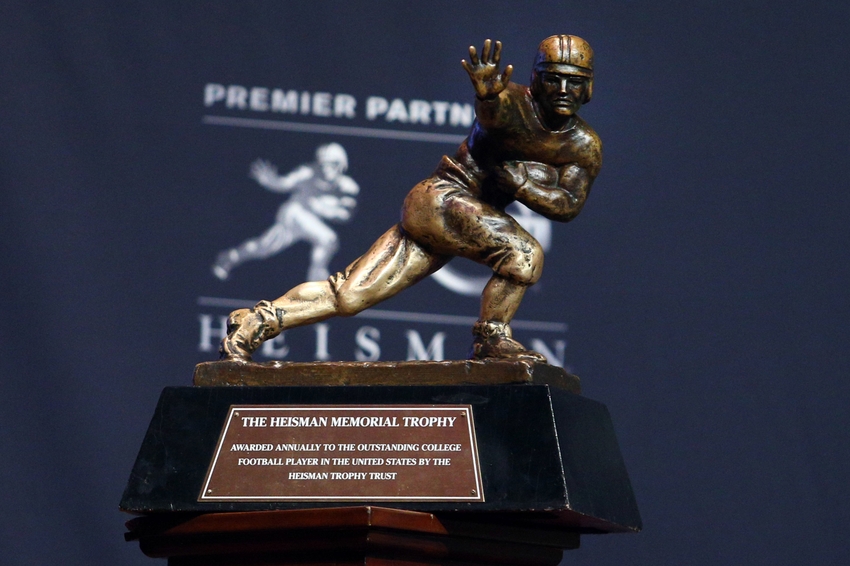 As the NCAA Tournament continues its March Madness, with sportsbooks crunching the numbers before and after each game, college football continues to attract the attention of sports bettors, albeit between NCAA Tournament games.
The 2017 college football regular season is over five months away but for sportsbooks and bettors alike it is never too early to give a look to futures odds especially for the sport's most prestigious award for a player the Heisman Trophy.
Numbers for the upcoming season were released by online sportsbooks back in February and to no one's surprise the two leading candidates were quarterbacks
At that time, the two top choices as the odds on favorites were Baker Mayfield the signal caller for the Oklahoma Sooners and Lamar Jackson the reigning Heisman Trophy holder and the returning quarterback for the Louisville Cardinals.
At the time, both players were 7 to 1 to win the trophy. Jackson ran away with the trophy last season throwing for 31 touchdowns and rushing for 21.
Mayfield had 2 touchdown passes or more in each of Oklahoma's 13 games last season and helped lead the Sooners to an 11-2 record and win in the Sugar Bowl.
However, Mayfield has some recent issues off the field that included an arrest for disorderly conduct, public intoxication, resisting and fleeing arrest. He is not suspended by the team yet, but that could happen. His odds are now down to 15 to 2 as are Jackson's as well, but the two still lead the futures board.
USC quarterback Sam Darnold was moved up to 15 to 2 to join the other two quarterbacks. He played impressively for the final 10 games of the Trojans season leading them to 9 straight wins.
The top rusher on the Heisman futures board is Saquon Barkley from Penn State. His odds are 15 to 1. Barkley scored 18 touchdowns on the ground last season and rushed for 194 yards in Penn State's Rose Bowl loss to USC.
The top seven players on the future's board with the shortest odds are all quarterbacks, with Barkley the first non-quarterback.
A quarterback has won the Heisman Trophy 9 of the past 11 seasons.
The two quarterbacks following Jackson, Mayfield, and Darnold, to round out the top five, are JT Barrett from Ohio State at 9 to 1 and Jake Browning from Washington at 12 to 1.