Golden State Remains on top of Futures for Western Conference
April 22, 2017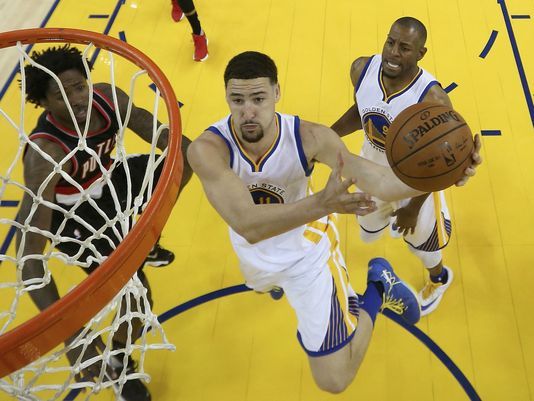 The Golden State Warriors are the tough guys on the block out West and that likely will not change in the near future. Odds makers believe the Warriors who are ahead in their current series 2-0 over Portland will eventually represent the conference in the NBA Finals.
Golden State as of Friday was sitting at 1 to 3 to win the West, while the San Antonio Spurs were next closest at 7 to 2, followed by the Houston Rockets at 8 to 1, the Los Angeles Clippers are 16 to 1, the Utah Jazz at 33 to 1, Oklahoma City Thunder at 150 to 1, Memphis Grizzlies at 150 to1 and the Portland Trail Blazers at 250 to 1.
While Golden State did not have a record setting regular season like last year's 73 wins, its 67-15 record was the best in the NBA and the team has played well coming down the stretch and into the postseason, even though Kevin Durant missed closed to all of the final quarter of the season.
Durant is back, but trainers and coaches are taking a cautious approach to his playing time holding him out of Game 2 against Portland and he could miss Game 3 on Saturday.
San Antonio and Houston are the only two teams that could upset the Warriors and reach the Finals from the West. The Spurs in the postseason become a different team and cannot be counted out while Houston has the offensive power to play with the best of the best.
The Warriors odds have shortened since they started the postseason with two straight wins in the first round. The Clippers odds have widened from 16 to 1 to 25 to 1, while Oklahoma City also saw its odds drop to 150 to 1 from 40 to 1.
However, both the Clippers and Thunder won on Friday, therefore their odds could shorten the next time the futures are released especially if each wins Game 4 to even their individual series.
The Thunder held off the Rockets on Friday 115-113 and now trail 2-1 in their series with Game 4 on Sunday in Oklahoma City.
The Clippers defeated the Utah Jazz on Friday in Game 3 to narrow the lead of the Jazz to 2-1. The two play Game 4 on Sunday in Utah.