Golden State Favored to win 2018 NBA Title
June 13, 2017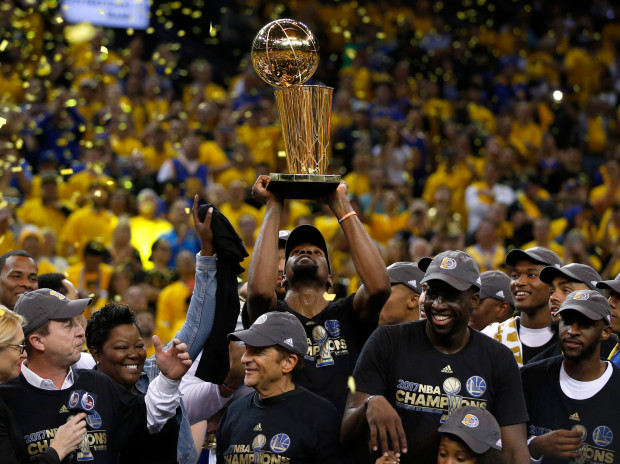 The Golden State Warriors defeated the Cleveland Cavaliers 129-120 to win the 2017 NBA Finals Monday Night. The NBA title was the second for the Warriors in the past three seasons.
Just hours later, online sportsbooks released futures for the 2018 NBA championship. The name at the top of the list should not surprise any sports bettor. Golden State tops the futures board with 4 to 5 odds to win the title.
Following Golden State with the second shortest odds are the Cleveland Cavaliers at 3 to 1.
After Golden State and Cleveland, the odds become quite higher with the Boston Celtics and San Antonio Spurs each at 12 to 1, the Houston Rockets at 20 to 1, the Los Angeles Clippers at 33 to 1, the Toronto Raptors and Washington Wizards at 50 to 1, the Oklahoma City Thunder at 66 to 1 and the Memphis Grizzlies at 75 to 1 to round out the top 10 shortest odds.
Golden State has one of the NBA's most dominating teams ever assembled. However, Cleveland is not going to hide as they have the game's best player in LeBron James and a strong supporting cast that helped them win the NBA championship last year.
The Boston Celtics have a strong roster topped by Isaiah Thomas and will have the No. 1 overall pick in the upcoming NBA Draft, which will help add talent to an already deep roster.
Nevertheless, it will not be easy to knock King James and the Cavs off their Eastern Conference perch but Boston at 12 to 1 has good value at this time.
Golden State will see some competition from San Antonio and the Los Angeles Clippers. The Clippers have a strong corps of players in Blake Griffin, Chris Paul and DeAndre Jordan but have not reached the Western Conference Finals with all that talent.
Add to that the fact, both Griffin and Paul will be unrestricted free agents and the Clippers might start the season with their two best current players in different uniforms.
San Antonio should return to challenge the Warriors, with a roster that should not change, as long as the nucleus of players on the roster now do not fall to injury as they did this past season during the playoffs.