Golden State Dominance Not Helping Futures Market for NBA
June 24, 2017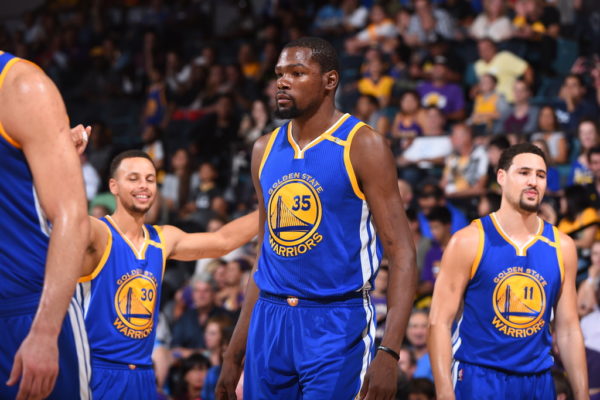 The dominance the Golden State Warriors showed during their 16-1 during the postseason to win their second NBA championship in three years could be hurting the amount of betting on the NBA futures board.
Several online sportsbooks felt the Warriors were such a big favorite to win the 2017-18 NBA title at 4 to 5 that there might need to be a prop bet or two available to attract more bettors.
With Golden State being such a favorite, a number of sportsbooks felt sharp money would take several of the teams behind the Warriors knowing just how difficult winning back to back title is in the NBA, but little or no action came in.
Therefore, one sportsbooks, with others following suit, posted an NBA prop bet of Golden State versus the rest of the NBA for the 2017 NBA Title. The Warriors opened that prop at 2 to 5, while the field opened at 2 to 1.
Whether this type of prop bet or any others that sportsbooks come up with will attract more futures wagering is too early to tell, but any uptick will help since the handle has been much less than in previous years following the NBA Finals and the release of the futures odds.
Most NBA bettors have the feeling that only the Warriors and Cleveland Cavaliers have a real chance at winning the NBA title and perhaps now feel that only the Warriors have a real chance.
One online sportsbooks said that during the just ended NBA season a drop of 25% was experienced in the futures handle compared to the prior season, and the just completed season had 75% less than during the 2014-15 season.
Often times, public bettors will throw their money at their team after a big event, such as the Celtics making a trade for the No. 1 pick, or the Minnesota Timberwolves acquiring Jimmy Butler, but that has not happened since the NBA Draft on Thursday.
The NFL is a good comparison. The Cleveland Brown had bets placed on them to win Super Bowl LII on the futures board, while the worst teams in Major League Baseball drew action for the futures boards as well.
The new prop has solid value at 2 to 1 for any other team winning than the Golden State Warriors.