Take the Road Dogs in NFC East Divisional Games
July 8, 2017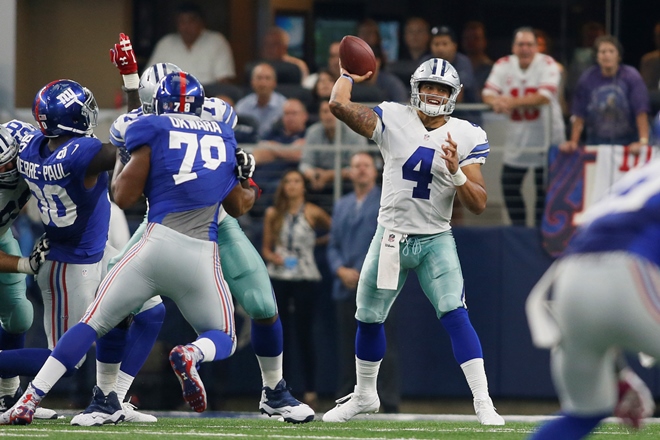 The 2017 NFL regular season will kick off in two months and the NFC East is expected to be a tight race between the Dallas Cowboys and New York Giants. When it comes to betting the NFC East divisional games the road dogs have been lining the pockets of bettors for the past decade or more.
Over the last decade, parity has been the name of the game in the NFC East, making it tough and unpredictable for picking a winner. Each year a false favorite begins the season. Not since the Philadelphia Eagles of 2003-2004 has a team repeated as the champion of the NFC East.
Odds to win each division this season in the NFL were released in May and the Dallas Cowboys can be found from between +120 and +140 to repeat as NFC East champions, while Dallas is also favored at +465 to win the overall NFC. But remember this is the NFC East and you should expect the unexpected.
In the NFC East, the gap between top and bottom is almost always tight when compared to other NFL divisions.
Such competition makes for great games and reflects itself in the odds. During the past six years, not including Week 17 when many teams in the playoffs rest starters, only 4 of the 60 rivalries in the NFC have kicked off with point spreads of higher than 7 points.
Just once dating back to 1995 has the average victory margin between NFC East foes been larger than 4.3 points. In comparison, the victory margin has been 5 or more points in six of the past eight seasons in games between rivals from the NFC North.
The easiest way to increase your winnings when it comes to betting the NFC East is taking the points (side with the dogs). Since 2007, road dogs are 56-29 against the spread in NFC East divisional games, with them making a profit in each of the last 10 season.
Last season, road dogs were 4-3 ATS, which tied 2009 with the fewest wins for the road dogs dating back 10 years. Eight NFC East games have road dogs in 2017. Included in those eight are two during Week 1 with the Eagles at the Redskins (-2) and the Giants visiting the Cowboys (-6).
Betting the road dog straight up when it receives 4 or fewer points has been even more lucrative when it comes to the NFC East. Road dogs are 27-19 SU in that situation.
Under those conditions last season, division dogs were 2-1 marking the fourth consecutive winning season for that scenario.