Intertops Bonus Update
July 14, 2017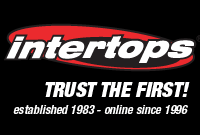 The vast majority of sportsbooks online will have a deposit bonus for players using Bitcoin. This is because Bitcoin is so easy to use and very cheap as well. So, when we tested Intertops (Rating A) today we were surprised they didn't have any sort of reload bonus and that includes for bitcoin. Note: We had listed "50% BTC bonus" on our site this summer for Intertops.
When we contacted support and asked for any type of reload bonus they basically gave us a link to a page of bonuses, most of them were sign-up bonuses geared at new players. The other bonuses were what we call gimmick bonuses, or game bonuses. They have little caveats like "you must bet these parlays" or "you must bet on this game". Remember those corny radio station giveaways? That is kind of what they remind me of.
The bonuses they do offer is a $20 sign up bet, a "choose your bonus sign-up bonus", a "lose one leg of your parlay and get entered into a drawing, and finally a 50% of your "refer-a-friend" friend's deposit.
When contacting customer support to make sure I wasn't missing something, they assured me there was no reload bonus, just the gimmick bonuses and sign up bonuses on the bonus page.
For this reason I suggest to the players that like to reload that they may want to look elsewhere. Below is the copied and pasted chat:
End Chat